GBC Institutional Advisory Council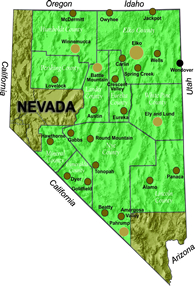 The Great Basin College Institutional Advisory Council is comprised of leaders from throughoutthe college's 86,500 square mile service area.
The Institutional Advisory Council meets twice each semester. The Leadership Council briefs members of the Institutional Advisory Council on matters of college business. The Institutional Advisory Council makes recommendations for the development of programs and services in their individual communities and throughout the service area.
The Chair of the Institutional Advisory Council shall represent the Council as an advisory member on the Board of Regents Standing Committee on Community Colleges.
Council Members
Dr. Hugh Collett, Elko
Ms. Laura DelRio, Wells
Mr. Vince Juaristi, Washington, DC
Mr. Al Parker, Pahrump
Mr. Chris Melville, West Wendover
Mr. Don Miller, Elko
Mr. Will Moschetti, Elko
Mr. Dave Roden, Winnemucca
Ms. Jolene Supp, Wells
Ms. Caroline McIntosh, Ely
Ex Officio Council Members
Jeff Zander, Elko County
Monie Byers, Esmeralda County
Greg Wieman, Eureka County
Dave Jensen, Humboldt County
James Squibb, Lander County
Pam Teel, Lincoln County
Chris Schultz, Mineral County
Dale Norton, Nye County
Danie Fox, Pershing County
Bob Dolezal, White Pine County
Meeting Materials
Agendas
Meeting Minutes
For More Information Contact
Great Basin College
1500 College Parkway 
Elko, Nevada 89801
Phone: 775-738-8493
Why Great Basin College
Great Basin College wants to be your choice for higher education. GBC offers associate and baccalaureate level instruction in career and technical education and academic areas. About 3,800 students are enrolled online from across the country and on campuses and centers across 86,500 square miles, two time zones, and ten of Nevada's largest counties. We border Arizona, Oregon, Idaho, Utah, and California. We are GBC!