President's Corner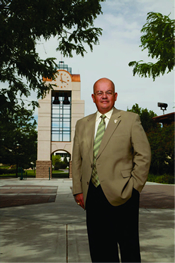 Dear GBC Alumni,
As Great Basin College approaches its 50th anniversary year, we are making a serious attempt to begin and sustain a working alumni association for the thousands of graduates and students who are proud of the advancements their alma mater has made since its founding in 1967. Great Basin College now has an assigned service area of Nevada's ten most rural counties encompassing 86,514 square miles. With five campuses, twenty additional locations statewide and online programming, the college serves 3200 students from all 17 counties in Nevada and twenty other states. Now offering ten Skills Certificates, sixteen Certificates of Achievement, twenty one Associate Degrees and ten Bachelor's Degrees there is something for virtually everyone.
In recent months the Elko Campus has been highlighted in two separate publications for it incredible beauty. Additionally, GBC has been ranked a number one out of the top one hundred online colleges and university across the nation for its affordability. The college is also well on its way to full implementation of its growth agenda which has led to the addition of more service area, national recognition for its distance delivery methods and several new bachelor's degree offerings (i.e., Biological Sciences, English, Social Science and Natural Resources) with many more on the drawing board.
On May 21 nearly 500 GBC students will be receiving 564 degrees and certificates which is another record for the college. The new graduates will join over five thousand who have gone before them. It is my sincere hope that as the GBC Alumni Association takes root and matures you will join and use it to stay in touch as your college is lifted to new heights.
Sincerely,

Mark A. Curtis, Ed.D.
President
For More Information Contact
Gregory Brorby
GBC Foundation Director
Great Basin College
Phone: 775-753-2260
gregory.brorby@gbcnv.edu
Why Great Basin College
Great Basin College wants to be your choice for higher education. GBC offers associate and baccalaureate level instruction in career and technical education and academic areas. About 3,800 students are enrolled online from across the country and on campuses and centers across 86,500 square miles, two time zones, and ten of Nevada's largest counties. We border Arizona, Oregon, Idaho, Utah, and California. We are GBC!