HOWARD HICKSON'S HISTORIES
[Index]
---
Billy the Kid in Nevada?
Elko and White Pine Counties, 1913-1929
Most everyone has heard of "Billy the Kid." His moniker and the fact that he was one of the most famous outlaws of the American West are about the only things agreed on by historians.
His criminal career began in Arizona and ended in New Mexico. Or did it? Contemporary research suggests that he was born in the slums of New York City with the name Henry McCarty. Later, he took on the name William Henry Bonney, which he favored, and also used the alias Henry Antrim. His birth year is 1859, 1860 or 1861.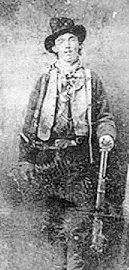 Bonney's nickname and dubious fame began in Camp Grant, Arizona, when he stopped for a drink in a bar. A local blacksmith, called "Windy," who had downed way too many drinks, began picking on Bonney, calling him "Billy the Kid Goat." The youngster suddenly found himself on the floor and the big blacksmith was kicking the heck out of him. Bonney pulled his pistol and blew Windy to kingdom come and sprinted for the door of the saloon. Someone in the crowd yelled, "Stop him! Stop him! String up that Billy the Kid!"
New Mexico was his next stop. Lincoln County rancher John Henry Tunstall put Billy on the payroll as a drover and body guard. This act put Billy smack dab in the middle of the Lincoln County War. Tunstall was aligned with John Chisum and Alexander McSween in the cattle war. Bonney's employer was gunned down in 1878. It wasn't long until Tunstall's killers began biting the dust, one by one. Everyone knew who was exacting hotlead justice but that was okay since the killers were on one side or the other of the range dispute.
Then Billy and his pals made a big mistake. They killed Lincoln County Sheriff William Brady and his deputy, George Hindman. This was serious trouble. The lawmen were crooked but they were government appointed agents. The Kid was in serious trouble.
Pat Garrett was elected sheriff of Lincoln County in 1880 and right away, he took off after Billy. The officer arrested the outlaw and Billy was tried for the murder of Sheriff Brady. He was convicted and the judge sentenced him to death.
"You will be hanged by the neck, Billy, until you are dead, dead, dead!"
Billy countered, "You can go, Judge, to hell, hell, hell!"
Ten days before his appointment with the hangman, Billy escaped by shooting and killing two guards. His date with destiny would come at another time, July 14, 1881. That's when Sheriff Garrett gun downed Billy at the Maxwell Ranch near Fort Sumner. As with all legends things became a bit hazy.
Buried in a common grave with two friends, no one knows for sure which body is which, or if Billy is there at all. The only known photograph of the Kid showed him left handed until it was discovered that the photo was reversed. He hadn't killed 21 men, one for each year of his life. That's hogwash. He personally killed nine - other murders chalked up to him were joint efforts and no one knows if a bullet by Billy killed any of them. He was not the murderous trigger-happy outlaw that history labeled him. People just added more fabrications to build on his already bad reputation.
Legend has it that Billy was not killed in 1881 but lived to a ripe old age somewhere else. In the 1940s, an old gentleman by the name of "Brushy Bill Roberts" in Texas claimed he was Billy the Kid. It was never proven.
Dick Walter, who owned a ranch near Currie, Nevada, says he saw Billy, more than once, in northeastern Nevada. Dick lived in Ft. Sumner for a spell while riding broncs and capturing horses from Mexico to Canada. He said some friends of Billy's told him to look for Bonney at Cherry Creek, Nevada. They told him he would know the former outlaw by his small head, long neck and especially his eyes, like a wildcat's. Walter didn't think too much about it until an incident in 1913 in Long Valley, east of Cherry Creek.
Dick found two men trapping horses at one of his watering holes. He told them he had the spring leased and for them to get out. Then he noticed one of them had a small head and a long neck but it was his eyes that caught his attention. The stranger's eyes really resembled a wildcat's - even changed to a deadly color. A chill went over Dick and he told them to take the mustangs they had caught and leave. Breathing a sigh of relief, he knew for sure he had come across Billy the Kid and was lucky to have survived.
Dick saw Billy again years later up in Goose Creek country. The Kid was cutting logs for the UC outfit. Walter said his looks hadn't changed and that he never had anything to say and nobody ever called him anything but Senator Bill.
Mike Landreth recalled his only meeting with Billy and claimed there was no doubt about who he was. It was 90 miles northeast of Wells in 1922 when he bought a jug of illegal rot gut from the Kid. Mike said Billy's still was near a fine spring and that made real good whiskey. Mike never saw the Kid again.
Dick Walter did. Dick was at UC's Rock Springs Ranch where he was working during the winter. It was 1929, Billy would have been about seventy. He rode in during a snow storm looking for a place to stay overnight. He was older and grayer but he still had those glowing eyes. Wary and restless, he stayed the night and was gone before dawn. That was the last sighting of Billy the Kid in northeastern Nevada.
Is all this real or imagined? Who knows? There are still people who see Elvis Presley after all these years since his death in 1977. Sometimes, legends refuse to die.
Sources: Aged in Sage by Jean McElrath, 1964; "Facts vs. Myth," "Billy the Kid: How Bad was He?" www.aboutbillythekid.com/: and "The Night Pat Garrett (Probably) Shot Billy the Kid" www.desertusa.com. If you want to read more about Billy the Kid, run a search for him on the Internet - you will be inundated with information.
Howard Hickson