HOWARD HICKSON'S HISTORIES
[Index]
---
Doby Doc: Part Two of Four
Northeastern Nevada and Las Vegas (1890-1979)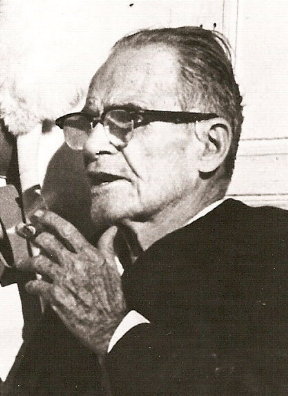 To hell with your competitors. Take care of your own business and you'll take care of them. You'll bust them. While they are worrying about you - you're making money. Never, ever play the other man's game." - Doby Doc.
According to Della Phillips of Tuscarora, "Doby never stole from a poor man."
He "collected" anything and everything. When he found relics he liked, it was a sure bet that, somehow, by hook or crook, the items ended up in his collection. Many things just disappeared under the nose of the owner.
Dr. Tom Gallagher said, "When I was a kid, I frequently ran errands for Doby Doc. I was in the Commercial Hotel one day when Doby thrust a box into my arms and told me to say nothing. A few moments later, Newt Crumley (the elder) came by and said someone had stolen a clock from the hotel. After Crumley left, Doby relieved me of the box. It contained the clock."
Zed Williams was invited to see the collectibles Doc had accumulated. He remarked, "You just got a buncha junk here."
"Nah." Doc said, "Gonna be worth a lot of money one of these days."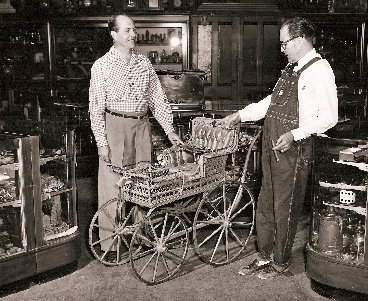 Doc showing off one of his treasures, a baby buggy. Northeastern Nevada Museum Archives, Elko.
Doc was both shrewd and crooked at the same time. He actually bought and opened the Rosebud Saloon in Elko during Prohibition. In local newspapers he announced that he sold only soft drinks. He put in some apartments over the bar. It was during his ownership of the bar that he had his first and only losing battle with authorities. Doc was arrested for bootlegging and paid a $2,000 fine. No jail time.
Wouldn't you know it? The Rosebud burned down. Officials called it arson. Even so,
the building and its contents were insured and Doby walked around town with a lot of insurance money in his overalls.
That's when he bought the old Henderson Bank building, remodeled it and christened the place the Silver Dollar Bar. He purchased a building behind the Bank Club in 1933 and opened Danceland.
Even with his shady ways, Doc had a good side. He helped many people who were poor. During World War II, serious shortages caused rationing of many essentials like meat, gasoline, tires, and sugar. Doc was always able to get provisions to them.
During cold months, the poorer people couldn't afford coal to heat their homes. They walked along the railroad tracks picking up coal that had spilled off passing trains. There seemed plenty of coal - more than could honestly have fallen off. People also suspected that a missing carload of hams and a load of shoes ended up in the same households, courtesy of Doby Doc.
He loved kids. If a youngster needed a job he usually found one, although it might be running errands.
Leo Puccinelli and his pals were playing ball in a vacant lot using a broken bat and a ball wrapped with tape. One day, when a game was underway, Doc was watching and asked them, "What's the matter, kids? Ain't ya got a better ball than that?"
"Nah." Was the reply.
From behind his back he produced a brand-new ball, saying, "Here, try this one." A couple of days later he gave them a new bat.
Sources:
"Doby Doc - Robin Hood of Elko County," by Jerry Hendershot, Northeastern Nevada Historical Society Quarterly, 88-4.
"Doby Doc - The Continuing Saga," by Donald E. Getz, Northeastern Nevada Historical Society Quarterly, 89-3.
"Black Wrangler - Reminiscences of Lawrence Jackson," edited by Howard Hickson, Northeastern Nevada Historical Society Quarterly, Fall, 1977.
"More about Doby Doc," edited by Howard Hickson, Northeastern Nevada Historical Society Quarterly, 89-1.
"The El Rancho Vegas and Hotel Last Frontier: Strip Pioneers," by David G. Schwartz, Ph.D., University of Nevada at Las Vegas, July 8, 2000, Gambling Research - The Electronic Journal of Gambling Issues.
"A Retrospective - Benny Binion Speaks," Internet site, World Series of Poker, University of Nevada at Las Vegas.
Joe Bell, Elko, Nevada resident.
Joe Mendive, Elko, Nevada resident.
"The Last American - A Personal Odyssey" by Daniel Markoff, Sagebrush Headlight, Vol. 26, No. 1, 91st Edition, Spring 2005, Nevada State Railroad Museum, Carson City.
"Doby Doc at 82 - A Western Original," October 1, 1972, and "Famed Doby Doc Tells All As Diamonds Mirror Past," October 8, 1972, both by Judy Carlos, Las Vegas Sun Scenic Magazine.
Social Security Death Index, Ancestry.com.
World War I Draft Registration Cards, 1917-1918, Ancestry.com.
©Copyright 2007 by Howard Hickson