HOWARD HICKSON'S HISTORIES
[Index]
---
Doby Doc: Part Four of Four
Northeastern Nevada and Las Vegas (1890-1979)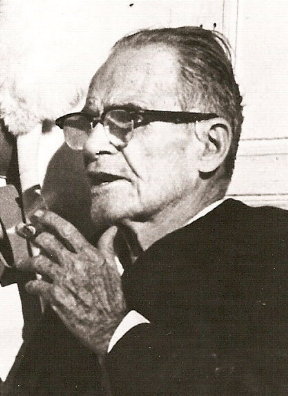 "Married? Hell no. I couldn't ask a girl to take a chance on me in the kind of business I was in!" - Doby Doc.
It's hard to swallow some of Doby's stories about his adventures and treasures. That's because they are pure baloney spiked with a little truth, some wishful thinking, and a lot of imagination, all seasoned with a little entertainment. He loved being the center of attention, no matter what it took. A tall tale loosely based on a small amount of fact usually served his purpose.
When he closed the Last Frontier Village, the memorabilia was hauled out to his complex where he stored his collectible treasures. The property was screened from view by rows of elm trees. Extensive fencing surrounded the property with several hired watchmen to protect his inventory.
Doby's usual garb on his property was Oshkosh B'Gosh overalls. Following him around was his longtime Dachshund pal, Petey.
When Doc needed to dress up, he went totus porkus. For an interview at the Fremont Hotel, a reporter wrote that he was a "courtly, soft-spoken man in striped trousers and gray-striped black swallow-tail coat, light gray ten-gallon hat, string tie and large diamond stickpin." He was 82 when interviewed in 1972.
This same courtly, soft-spoken person also had a short fuse. Doby was having lunch at the Ranchinn in Elko when a fellow walked over to his table and muttered a few gruff words. Doby stood, pulled a pistol from his overalls and, through clenched teeth, advised the shaking man not ever to mess (author's words, not Doc's) with him. He turned white and slowly backed off and left the Ranchinn in a hurry.
A witness to the incident, said that Doby would have shot him for sure, adding that "his knuckles were white and ready to squeeze the trigger."
A Las Vegas Sun reporter interviewed him at his warehouse complex near McCarran International Airport. The reporter wrote: "The kitchen is small, neat, and functional with a plain wooden table and two chairs. The master bedroom contains a magnificent hand-carved bed and chests which were once owned by Eilley and Sandy Bowers." The Bowers were Virginia City nabobs who lived in Washoe Valley between Reno and Carson City.
Continuing, the reporter noted, "Doby never sleeps in the ornate bed even though he says, 'It's a pretty good one.'" He slept in another room on his single bed. Wonder how Doc acquired the Bowers' bed? Was it another one of his verbal deals?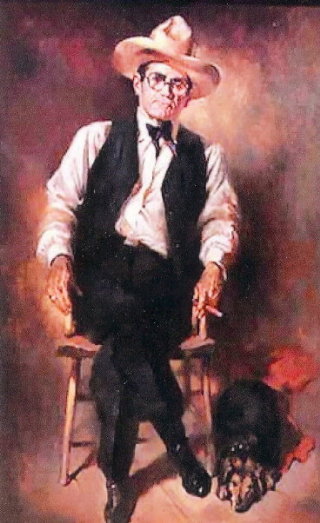 This painting of Robert "Doby Doc" Caudill
by Julian Bitter hung in Benny Binion's office
in Binion's Horseshoe Casino on Fremont
Street in downtown Las Vegas. His ever present,
longtime Dachshund pal, Petey, is at his feet.
He died in his home on August 19, 1979. Doc was 89. They buried him in Las Vegas four days later. Many of his Elko friends were there. While alive, he had worn many hats - miner, ranch hand, bookkeeper, mining camp cook, roustabout, saloon owner, dance hall proprietor, bootlegger, curator of the Frontier Western Village, Las Vegas gambler and Nevada's greatest ever collector of historical memorabilia and junk.
Elko Postmaster Antoine Primeaux said, "Here was a guy who was a musician, understood law, was good at management, and had engineering experience. Where did it all come from? How was he able to accumulate that kind of knowledge?"
Biggest mystery of all is what happened to his collections when he died. Some of it might have ended up at a tourist attraction called Old Las Vegas on Boulder Highway. Daniel Markoff wrote that he found Doby Doc's Eureka and Palisade locomotive burned at the site in 1986. The engine had also been displayed at the Old Frontier Village. We know he sold more than three million dollars of his inventory to Roy Rogers and a group in Florida.
Still, there had to be a large amount of his junk and memorabilia left - where is it now? Surely, he must have had some of his wealth left when he died. We might never know, but isn't it just like Doby to leave a lot of questions unanswered?
Sources:
"Doby Doc - Robin Hood of Elko County," by Jerry Hendershot, Northeastern Nevada Historical Society Quarterly, 88-4.
"Doby Doc - The Continuing Saga," by Donald E. Getz, Northeastern Nevada Historical Society Quarterly, 89-3.
"Black Wrangler - Reminiscences of Lawrence Jackson," edited by Howard Hickson, Northeastern Nevada Historical Society Quarterly, Fall, 1977.
"More about Doby Doc," edited by Howard Hickson, Northeastern Nevada Historical Society Quarterly, 89-1.
"The El Rancho Vegas and Hotel Last Frontier: Strip Pioneers," by David G. Schwartz, Ph.D.., University of Nevada at Las Vegas, July 8, 2000, Gambling Research - The Electronic Journal of Gambling Issues.
"A Retrospective - Benny Binion Speaks," Internet site, World Series of Poker, University of Nevada at Las Vegas.
Joe Bell, Elko, Nevada resident.
Joe Mendive, Elko, Nevada resident.
"The Last American - A Personal Odyssey" by Daniel Markoff, SagebrushHeadlight, Vol. 26, No. 1, 91st Edition, Spring 2005, Nevada State Railroad Museum, Carson City.
"Doby Doc at 82 - A Western Original," October 1, 1972, and "Famed Doby Doc Tells All As Diamonds Mirror Past," October 8, 1972, both by Judy Carlos, Las Vegas Sun Scenic Magazine.
Social Security Death Index, Ancestry.com.
World War I Draft Registration Cards, 1917-1918, Ancestry.com.
©Copyright 2007 by Howard Hickson