World Famous Saddle
Made by G.S. Garcia in Elko - 1903
It was the most beautiful saddle at the 1904 World's Fair at St. Louis, Missouri. Then, at the Lewis and Clark Exposition in Portland, Oregon, the leather creation won another gold medal. No saddle had ever received two gold medals and it is a record that has not been matched. G.S. Garcia of Elko was the maker.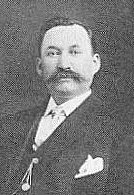 Guadalupe S. Garcia was born in Sonora, Mexico. When he was three years old his family moved to San Luis Obispo, California. Fascinated with saddle making and engraving, he became an apprentice at age 19 to Arana, a master in the business. Garcia learned quickly and soon opened his own place in nearby Santa Margarita.
As his fame grew in fame, Nevada cowmen began buying from him. Garcia heard many stories of Elko, a busy cowtown in northeast Nevada. He and his wife, Saturnina, arrived in Elko the day before Thanksgiving in 1896 with two suitcases of spurs, bits, reatas, headstalls, and reins. Within a week he rented a building on Railroad Street and nailed up a sign proclaiming he was a harness and saddle maker.
For 36 years he and his family and superb craftsmen turned out quality gear for buyers all over the world. Included were several Nevada governors, humorist Will Rogers, and actor Douglas Fairbanks. Ordinary cowboys thought nothing of shelling out a full season's pay to own one of Garcia's leather seats.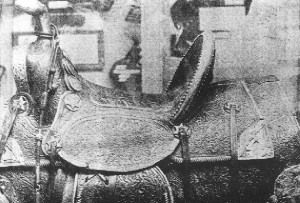 He decided to craft a saddle to take to the World's Fair. He and his workers assembled the finest saddle every made. Using flawless leather, they dyed it black, carved in American Beauty roses, and then adorned it with gold, silver, and diamonds. It was truly a leather throne.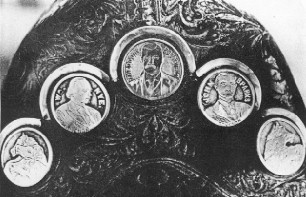 Across the rear of the fork were several $20 gold pieces with likenesses of President Theodore Roosevelt and two governors of Nevada, John Sparks and William Nye. Other gold pieces were carved with the famous three fairy horses with diamonds set in their eyes. An engraved eagle was set into the back of the cantle. It was a leather masterpiece and it lived up to its creator's expectation by winning two gold medals. It was the best in world.
G.S. didn't rest on his success. In 1913 he founded the Elko Rodeo which featured some of the roughest and meanest bucking stock in the West. He bought a ranch in Diamond Valley near Eureka but still personally supervised the work in his Elko shop and, more often than not, he did cutting and engraving himself. His product were all proudly stamped with his name and, today, are collector's items. Even his catalogs are found in many private and public collections and museums.
In 1932, at age 68, he turned over the shop to his sons and moved to Salinas, California, hoping the change of climate would help his ailing health. A year later, on April 28, 1933, he died of a kidney ailment. Saturnina lived until February, 1957.
His sons kept the Elko business going for six more years, then moved it to Salinas and continued quality craftsmanship until World War II shortages forced them to close.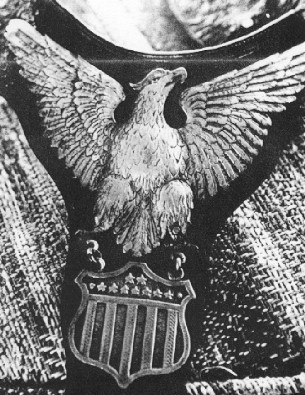 Garcia was survived by daughters Laura and Adelina, and sons Leslie, Henry, and Edward. Another son, Walter, died in Elko of an ulcer disease in 1929. Henry continued saddle making for a time in and Les ran a silver import and engraving business in Reno. The rodeo grounds and Garcia home site are now a mobile home area on Elko's south side.
The name G.S. Garcia continues to be respected. Many area people still own one of his saddles, bits, spurs or bridles crafted by the famed saddle maker who called Elko home.
His famous saddle is on exhibit at the Nevada State Museum in Carson City.
Howard Hickson
February 23, 2001
Sources: G.S. Garcia, Elko, Nevada, A History of the World Famous SaddleMaker, by David L. Van Meter, 1948; "J.M. Capriola Company" by Bill Nelson, Northeastern Nevada Historical Society Quarterly, (83-3) Summer, 1983; and an article, "G.S. Garcia," I wrote in 1978 for the Elko Independent.
All photographs are from the Northeastern Nevada Museum, Elko, collections.
©Copyright 2001 by Howard Hickson. Anyone is welcome to quote or use any portion or all of this article but proper credit must be given to the author.