Gold Badge

Sheriff Joseph Crawford Harris (1878-1936)
Sheriff Jesse "Jess" C. Harris (1903-1980)
It was gold and beautiful, symbolizing the law in Elko County for half of the 20th Century. A father and his son proudly wore the badge when they were in the county sheriff's office. Both had a sense of humor tempered by duty to uphold the law in the fourth largest county in the lower 48 states. Their beat covered more than 17,000 square miles of rugged and wild high desert country. They were men who understood when to be tough and when to be patient and considerate.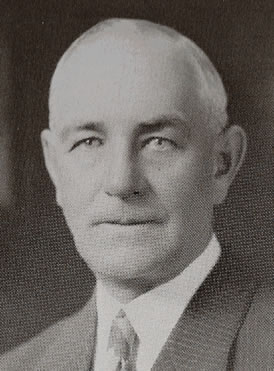 Sheriff Joe Harris, in office from 1910 to 1936, got around by automobile, train, and horse while Sheriff Jess Harris, who served from 1950 to 1974, conducted his business by car, railroad, horse and airplane. The younger Harris was nationally known in law enforcement as the "Flying Sheriff."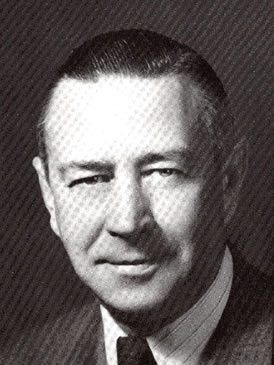 Appreciative townspeople of the Elko County mining camp Tuscarora commissioned Elko's G.S. Garcia to make a gold star for Joe. Garcia, a master craftsman, captured a gold medal at the World's Fair in St. Louis in 1904 for a saddle he created with gold, silver and diamonds. The next year, the same saddle was awarded a gold medal at the Lewis and Clark Exposition in Portland, Oregon. No saddle, before or after, ever won both gold medals.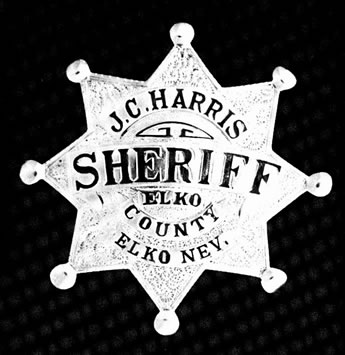 Garcia fashioned a badge from Tuscarora gold with eight rounded points. Jess had complained that badge points always poked holes in his shirts. Neither Joe nor Jess wore uniforms but the badge always adorned their shirts or coats. Were they proud of the badge? You bet. It was beautiful and represented the integrity of the office.
There was one other Harris who was sheriff in the 20th Century and the beginning of the 21st Century. That was Neil Harris. Not related to Joe and Jess he too carried the tradition of the office proudly for several years.
The Joe and Jess Harris Collection, mostly weapons and other items of mayhem, was given to the Northeastern Nevada Museum in Elko. The badge remains with the Harris family.
---
Sources: "Jess Harris, the Flying Sheriff," Northeastern Nevada Historical Society Quarterly, 92-2, "The Sheriff-Joe Harris," Northeastern Nevada Historical Society Quarter, 90-3, both by Carol Hendershot; "Last Horsedrawn Stage Robbery, " Northeastern Nevada Historical Society Quarterly, 81-1, by Howard Hickson; Elko Daily Free Press, January 13, 1911; Elko County Sheriff Neil Harris; and "Elko County Cemetery Records," Northeastern Nevada Museum archives, Elko.
©Copyright 2010 by Howard Hickson