HOWARD HICKSON'S HISTORIES
[Index]
---
Wagon Train Rest Stop
Wells, Nevada
Lush meadows and clear springs made the place a natural rest stop for the first American West tourists, emigrants on their way to a land of golden dreams in California. From the late 1840s to the early 1870s, it rivaled any resting place on the California Trail. Pioneers called it Humboldt Wells. It was the beginning of a tough and deadly journey over 400 miles of barren high desert.
For 20 years Humboldt Wells remained just a wide spot on the trail with no permanent buildings. The area was not included when Nevada became a state in 1864. The springs were part of Utah Territory until Congress, in 1866, gave Nevada a strip of land beginning just west of Humboldt Wells and continuing to what is today's Nevada/Utah border.
When the Central Pacific Railroad construction crews reached Humboldt Wells, they built a water tower and installed a box car next to the tracks as a freight and passenger depot. The first station was about one mile west of present Wells.
Central Pacific rail layers continued east where they met the Union Pacific construction crew at Promontory, Utah Territory on May 30, 1869. East and west were finally joined together. Travel time, from coast to coast and in ideal conditions, was reduced from three or four months to ten days.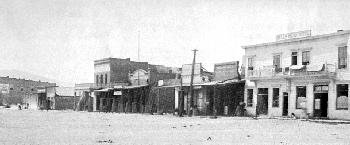 As with most western towns, the first business was a bar. The Bulls Head Saloon was also the first permanent building in Humboldt Wells. Then came a livery stable, telegraph office, general store, and another bar.
With the completion of the Central Pacific, a large number of its Chinese workers settled in the community. An extensive Chinatown developed with cafes, stores, and laundries. Some of the people lived in underground hovels just east of town.
Local economy flourished. Business came from the railroad; ranches in Starr. Ruby and Clover valleys; and mines at Sprucemont, Dolly Varden, Victoria and Cherry Creek.
By 1873, the community had grown into a bona fide town. There was a new school where students were called to class by the ringing of a railroad locomotive bell. That was the same year Elko County Commissioners officially shortened the name to Wells. Its population was around three hundred.
When one economic factor diminished, there was almost always one or two others to keep the place alive and well. There were mining declines but ranch trade and railroad business took up the slack.
Railroads had an impact on Wells. The town lost its freight division point. It was an important helper engine station where locomotives were added to trains to help them get over the Pequop Mountains east of town. The Nevada-Northern Railroad was built from Ely to Cobre taking a big chunk of the railroad business. Western Pacific laid its tracks through Wells. Another railroad, the Union Pacific's Oregon Shortline was completed from Twin Falls, Idaho. Nevada-Northern and Oregon Shortline later folded. The community lost its helper engine status when the railroad changed to powerful diesel locomotives.
Today, Wells is the crossroads of two major highways, Interstate 80 and US 93. I-80 is an important east/west route and US 93 runs from Canada to Mexico. There are casinos, truck stops, a golf course, and a California Trail museum. Beautiful Angel Lake, in the East Humboldt Range of the Ruby Mountains overlooking Wells, is a major attraction. So, as it was in 1849, it remains a tourist stop.
Never a boom town nor has it died the quick death of a mining camp. With whatever hand was dealt to them, the townspeople hung on through good times and bad. Like most rural Nevadans, they are a tough breed and proudly claim Wells as their home.
Source: "Wells, Nevada - A Pictorial History," Northeastern Nevada Historical Society Quarterly, by Howard Hickson, Winter - 1986. Photographs from the Northeastern Nevada Museum collections.
©Copyright 2006 by Howard Hickson