HOWARD HICKSON'S HISTORIES
[Index]
---
Jiggs, Nevada
Town of Many Names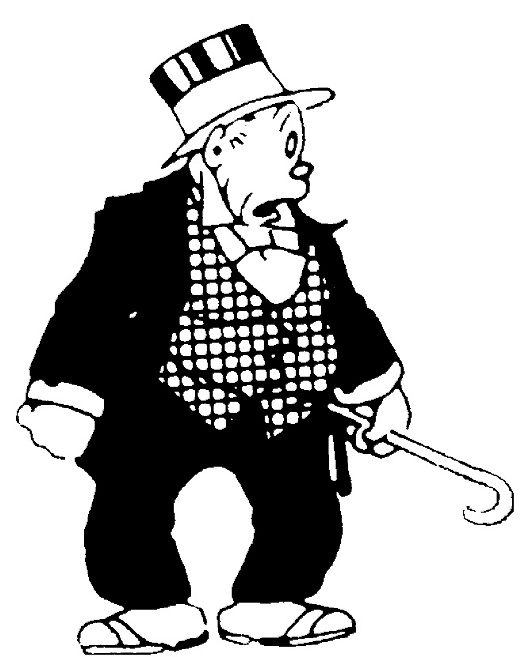 Hardly more than a wide spot on the road about thirty miles south of Elko, Nevada, Jiggs changed names frequently, was headquarters for a fictional badman, had more than the usual number of real honest to goodness outlaws than most towns, gave Nevada two governors, and the whole population appeared on national television commercials and advertisements.
Jiggs is in five-mile long Mound Valley. The spectacular Ruby Mountains tower over the many ranches scattered about the landscape There was no mining boom there, nor was a railroad built through the place, but Jiggs contributed more than its fair share to the colorful history of northeast Nevada. For being a small ranch town, the community sure had a lot of history happening in and around it.
Indians were, of course, the first settlers in the valley. Their life was a good one until the place was discovered by tourists.
In 1841, the first wagon train across Nevada (then part of Mexico) came near the future site of Jiggs. Next into the valley was the famed explorer, John C. Fremont. His party came within three or four miles of the place in 1845 when he journeyed over Harrison Pass.
A year later, the Donner Party struggled through on its way to a tragic rendevous with death and cannibalism in the Sierra Nevada. Delays, including going around the south end of the Rubies, caused them to be trapped by an early snow storm in the Sierra.
W.M. Kennedy was the first white settler. While driving horses to California in 1866 he saw the place and stayed. Two mounds in the valley prompted him to name the place Mound Valley.
Next came Lewis R. "Old Broadhorns" Bradley who would become Nevada's second governor. He brought in a herd of Texas Longhorns. In 1870, when Elko County had a heck of lot more political clout than these days, he was elected and spent eight years in Carson City.
By now the mining camps of Eureka and Hamilton were booming and the Central Pacific Railroad had been built through Elko. A toll road was built through Mound Valley to connect Elko with Hamilton.
David E. Hooten, a disappointed miner from Virginia City, built a way station in 1869 and named it, what else but, "Hooten Station?" His roadside business was a ten-room log hotel, an eating joint, and the most important place around, a saloon.
Near the end of the year, a post office called Cottonwood was located on a nearby ranch for seven months. Dry Creek was the next post office and it hung on for five years. Then the Mound Valley post office began operations and stayed in service until 1881.
That was the year Valley B. Paddock quit his job as a telegrapher for the Central Pacific Railroad. He settled near Hooten Station at a place called "The Meadows." He agreed to be the postmaster and renamed the post office "Skelton," his mother's maiden name. From November, 1884, until May, 1911, the cow town was called Skelton.
Mound Valley was a remote place in the 1870s and 1880s with little or no law. Many badmen were attracted to the valley where they passed long hours at Hooten's saloon hiding out from the good guys.
One of the outlaws boasted, "They gave me ten days to leave back home and I gave them back nine and a half days."
Famous author Zane Grey was impressed with the tough reputation and made Mound Valley headquarters for his fictional outlaw, King Fisher.
A small community populated by those who regularly broke the laws and others who were hardworking, honest ranchers hardly seems to be a good mix. Somehow, it worked and they all coexisted , usually by ignoring each other. As time passed, the settlement lost its appeal to the outlaws and Skelton established itself as a supply and social center for the valley.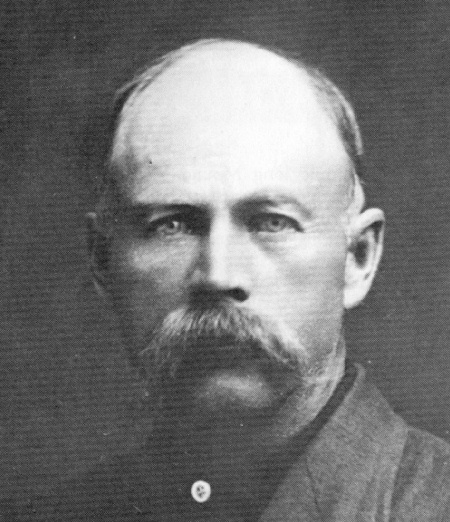 John Jesse Hylton came to Mound Valley in 1874 and opened a general store. He offered slightly lower prices than Elko. Hylton leased Hooten's buildings. Later, when the old saloon was torn down, old-timers claimed that two bodies were found buried under the stucture.
Hylton, in 1911, was the big wheel in town. The post office was now in a corner of his store and he asked postal officials to give the community his name. So, it was Hylton until 1918.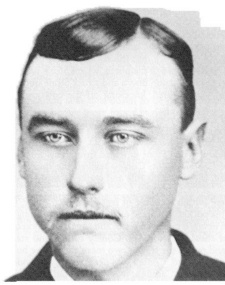 Albert Hankins, who came over the mountains from Ruby Valley, and bought the hotel and saloon, built a new brick structure and dance hall in town, and purchased Hylton's store. He was an honest man. When Prohibition started he hauled ten barrels of whiskey to Elko and turned them over to federal officials. He converted his bar into a small store.
He owned practically the whole town and sure didn't want to continue calling the place Hylton. His children begged him to use the name "Jiggs," Jiggs, who was continually harrassed by his wife, Maggie, was a character in a popular comic strip of the time, Bringing Up Father. The local women's organization promptly took on the name Maggie Club. December 18, 1918 was the date the town's name changed for the last time. In order, the names had been Cottonwood, Dry Creek, Mound Valley, Skelton, Hylton and, finally, Jiggs.
Mound Valley produced a second governor for the state. Edward "Ted" Carville, was born on his parents' ranch, attended Mound Valley School, and graduated from Elko County High School in Elko. After earning a law degree from Notre Dame University he returned to practice law in Elko. He was an assistant district attorney, then was elected district attorney, a job he had for eight years. He was later elected district judge, then was appointed U.S. Attorney for Nevada. In 1938 he was Nevada's 18th governor then, in1945, he became a U.S Senator.
A Hollywood movie company set up its cameras and built sets in the valley in 1940 and filmed "Brigham Young, Frontiersman." Locals watched some of the super stars of the time in action: Tyrone Power, Linda Darnell, Dean Jagger, Brian Donlevy, John Carradine, Mary Astor, and Vincent Price.
In 1952 the road to Elko was paved.
On to more pleasant things. Electricity, brought in by Wells Rural Electric Company, came to Jiggs in 1963. That was a banner year for the little town.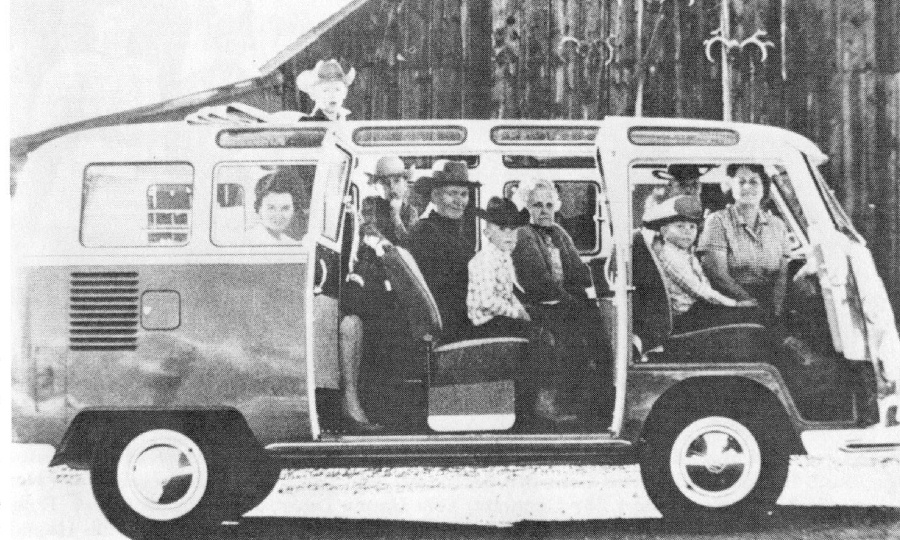 A New York advertising firm came to town. The whole population - five adults, four children, and a dog climbed into a Volkswagen van. Still cameras clicked and movie cameras whirred, recording visual testimony that the vehicle could easily hold all the citizenry of a town. The result covered two full pages in nationally distributed magazines and the television commercial was seen nationwide for about a year.
Since then the paved highway was extended a few miles to Harrison Pass. That same year, 1965, dial telephones came to town.
Jiggs is still there. Those who call Jiggs and Mound Valley home are proud of their area. Is there another place as small that had six names? Or, has supplied Nevada with two governors, has appeared nationwide in magazines and on television, was the setting for a "three star" movie, was the locale for several Zane Grey novels or has had its own golf tournament? One golf tournament? No, two. The Jiggs Invitational at the Spring Creek Golf Course and a cow pasture tournament near town. They take their golf seriously there.
One resident, in an interview many years ago with a newspaper reporter, said, "It's a good place to grow old. A school, a service station, a post office, and a bar. What else do you need for a town?"
Howard Hickson
December 18, 2000
Note: This article is a condensation of a story I wrote for the Northeastern Nevada Historical Society Quarterly in the Summer, 1988, issue titled "Jiggs and Mound Valley."
Photographs credit: Courtesy of the Northeastern Nevada Museum, Elko.
©Copyright 2000 by Howard Hickson. If any portion or all of this article is used or quoted proper credit must be given to the author.