HOWARD HICKSON'S HISTORIES
[Index]
---
Missouri Flat
Elko, Nevada 1869
Freighting to mining camps was the first big business in Elko. Missouri Flat was the freighting center for a large chunk of Nevada and southern Idaho. The place was in the vicinity of Silver between Seventh and Ninth streets. It was loud, busy and dusty. The noise of horses, mules and oxen was eclipsed only by teamsters cracking whips and cursing their animals. The heavy wagons, either inbound or outbound, caused gridlock almost daily. It was not a place for the fairer sex nor for timid men. Most of the teamsters lived in tents down by the Humboldt River where they could water and feed their animals.
In late August, 1869 the Weekly Elko Independent editor observed there were 177 freight wagons down at the Flat, 100 loaded and ready to leave the next morning. They weren't small vehicles - some of them could haul up to 40,000 pounds for two cents a pound. The big rigs carried mine machinery, lumber, foodstuffs, fuel and furniture.
There was also an express service for those who could afford three cents a pound for perishable foods and other supplies needed in a hurry. Fast freight was loaded into smaller wagons, usually pulled by mules or horses. Oxen plodded ten to twelve miles a day while mules and horses could do twice that.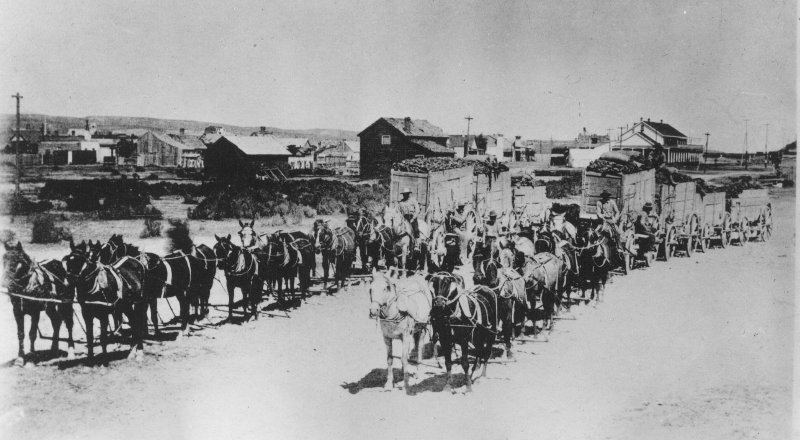 Two rigs loaded for Tuscarora in the 1880's when horses and mules had
replaced slower oxen. Photo from Northeastern Nevada Museum, Elko.
Twenty to thirty rail cars of machinery and supplies arrived daily in Elko. That's upwards to 300 tons for unloading and shipment to mining camps. Operating all year, good weather or lousy conditions, freighters pulled loads 200 miles north to Silver City, Idaho Territory; 120 south to Hamilton, Nevada; to Eureka and White Pine; and to all places in between.
Usually there were three or four wagons with upwards to 16 oxen doing the grunt work. Bulls, weighing around 1,600 pounds, were the beast of burden of choice. Even so, they had trouble in hilly or mountainous terrain. One bullwhacker, taking a big load to Eureka, said he frequently had to unhook the wagons and have the oxen pull one or two wagons until the four were sitting on top of a hill. Once there, he hitched up all his wagons and animals to continue his haul to the mining camp.
In 1880 oxen sold for $150 to $200 a yoke (two animals). Considering that a bullwhacker needed as many as eight yokes meant a big financial stake. With that much cash invested it was essential that the teamsters take care of the animals. Every wagon carried large barrels of water when good water was scarce on a route. Many times water was nonexistent or was so full of alkali it was not good for either man or beast. During summer the rigs were stopped every hour and each ox was given a pail of water.
Although horses and mules were used from the beginning, it was in the middle1880's that speed became important and oxen teams were gradually replaced by horses and mules. On the pull to Tuscarora, oxen teams and wagons usually took about one week to make the trip. The record to the silver camp was a round trip in three and one-half days using horses. The wagons, loaded with 12,000 pounds of freight, usually took two days to get there and one and one-half days to return empty.
Freight businesses were subject to the booms and busts of mining. As ore diminished there was, of course, less business. A couple of companies, when ore was no longer available for the return trip, began taking on passengers bound for Elko. There are no records of success in this venture but the idea was probably a bust. Who would want to ride in a freight wagon but the fare of only $10 might have been attractive?
With mining camps failing and their populations leaving, the need for those behemoths of the road stopped. Missouri Flat gradually became quite as the men, animals, and wagons left. No longer was there daily gridlock. The crack of long whips and the bellowing of the teamsters cursing the animals were gone. Paved streets, homes, and businesses took the place of the Flat.
An boisterous but essential part of 19th century American West died with the mining camps. As with most places then, Missouri Flat is just a memory.
Howard Hickson
March 9, 2003
Sources: Elko, One of the Last Frontiers of the West by Howard Hickson, 2002; A Sagebrush Saga by Lester W. Mills, 1956.
©Copyright 2003 by Howard Hickson.