HOWARD HICKSON'S HISTORIES
[Index]
---
The Whole Town Moved
Mountain City, Nevada - c.1878
Mountain City's story begins in May 1869, when Jesse Cope, with a small party of prospectors, found gold and silver on the upper fork of the Owyhee River. It wasn't long before a mining camp was born. When the smoke cleared in 1947 the district was the biggest producer in Elko County up to that time. It was mostly bust with a few good booms but almost $25 million of gold, silver and copper were taken from the mines.
By 1870 a full-fledged town stood on the river bank. It wasn't beautiful. Building materials were in short supply. The people used logs, adobe, rock, flattened tin cans and canvas to build functional, rather than beautiful, structures.
W.J. Hill, editor of Idaho's Owyhee Avalanche, visited Mountain City in 1870 and wrote: "They have nearly 130 buildings, half of which are tents. These include nine stores, two rooming houses, two bakeries, two livery stables, a Wells Fargo office, two drug stores, and two breweries and 20 or more saloons." That's probably about the right number of drinking places for thirsty miners in those days.
Also in town were six lawyers, three physicians, and a hurdy gurdy house. That's a nice way to describe something else.
The boom was soon a bust. In1876 total earnings for the year from the mining district was a miserly $6,641. Nothing to write home about.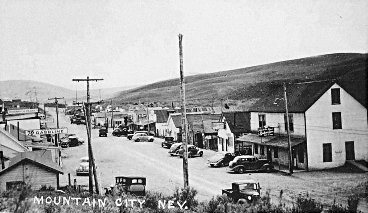 Mountain City during Rio Tinto's time. The hotel on the far right was moved from Gold Creek. Photograph from the Northeastern Nevada Museum (Elko) files.
Dreams of gold and silver riches do not die sudden deaths and a few stubborn prospectors continued their quest. About a mile north of Mountain City at a little settlement called Placerville they discovered some promising evidence in 1878. Mountain City people, not wanting to make a commute every morning, moved their whole town to Placerville and kept the name Mountain City.
How did this relocation happen? Did the Mountain City people, with all their belongings, just show up at Placerville and say they were moving in? Oh, by the way, we're renaming your town - we brought our own with us. Who knows? The facts were not recorded and are forever lost.
Mountain City's second boom soon fizzled. By 1907 the gold and silver producing days of the mining district were over. The total take was about $1.5 million. Still, though, local prospectors had long drooled from the mouth to explore nearby Duck Valley Indian Reservation but weren't allowed. Finally, in 1919, the government gave its okay to prospect there. The resulting rush created a temporary economic revival in Mountain City. Hordes of prospectors came to town but soon left disappointed. Nothing was found on the reservation.
In 1920, S. Frank Hunt came to town. Three miles south of town he made a huge discovery - not gold or silver, but copper. His strike, named Rio Tinto, produced $23 million but that's another story coming soon.
In this century, on the Utah/Nevada border, two communities are looking into merging - West Wendover, Nevada, and Wendover, Utah. Nevada's state line will bulge into Utah to accomplish the job. It will take an act of Congress, two state legislatures, and the two communities to make the deal - if it even happens. Things have changed somewhat since Mountain City moved to Placerville.
Sources: Nevada's Northeast Frontier by Edna Patterson, Louise Ulph Beebe, and Victor Goodwin; Northeastern Nevada Museum audiovisual script "Mountain City/Rio Tinto" by Darel Jardine.
©Copyright 2004 by Howard Hickson.