HOWARD HICKSON'S HISTORIES
[Index]
---
Sole Survivor
Elko, Nevada - September 5, 1946
A Trans-Luxury airliner on a New York to San Francisco flight was landing at Elko to refuel. Its captain, Kenneth Campbell, radioed Earl Shobe at the Elko Civil Aviation Authority (CAA) office at 1:21 a.m. He said he had the field in sight. Shobe told Campbell to notify him when he landed. No call came. Shobe tried to reach the aircraft for the next 30 minutes.
At 2:04, a United Airlines aircraft pilot reported a fire west of the airport.
George Sutherland, Jr. received the message and called Elko County Sheriff C.L. Smith who contacted County Fire Warden Irvin L. Ambler. Sutherland and Shobe started west on Highway 40 to find the fire. News in a small town travels fast. A local resident called mortician Robley Burns to tell him a plane had crashed near town. He, too, drove west on the highway paralleling the runway. About two miles out searchers turned off their vehicle lights and saw a glowing light to the north. One of them cut a wire fence and they began driving cross country in that direction. Rough terrain finally compelled them to go on by foot.
They found the crash site on a hillside near the airport beacon two and one half miles from the runway. Most of the wreckage, scattered over a large area, was still burning. They transported a woman, barely alive, to Elko General Hospital where she soon died. It was assumed that all the others on the plane had perished.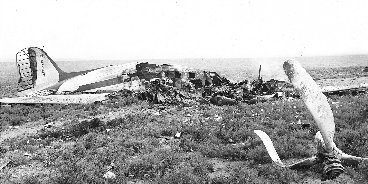 Bodies were found more than one hundred feet from the aircraft. Burns was out about two hundred feet out looking for more remains when he heard crying coming from a nearby clump of sagebrush. He found a little boy and picked him up. The youngster was injured and suffering from exposure and shock. Little Peter Link, three years old, would be the only survivor. His parents and baby sister were killed in the crash.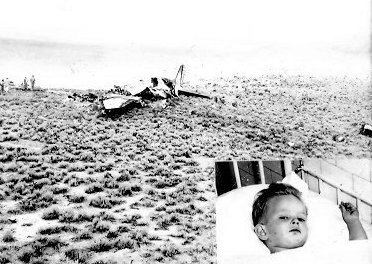 Peter was taken to the hospital where Superintendent Marie Herbster personally took over the care of the blonde, blue-eyed child.
Herbster reported, "He wakes up crying and I rock him back to sleep. He asks when his mommy is coming and I tell him after awhile."
Owners of Brehe's Toy Shop took toys to the youngster. A doctor and his wife in Inglewood, California offered to take the child but arrangements had already been made. Peter's uncle, John D. Briscoe of Brooklyn, New York traveled to Elko to take the boy to live with his grandmother in Brooklyn. The sole survivor of the crash, still living, became a succesful attorney.
Cause of the accident was placed on the pilot. CAA officials told Chris Sheerin of the Elko Daily Free Press that commercial planes were not to land or takeoff at night when the ceiling is below 1500 feet and less than three miles visibility. Visibility was seven miles but the ceiling that evening was only 200 feet with clouds as low as 100 feet. The pilot said he had the field in sight coming from the east. He probably passed over Elko and turned to approach the airport. That's when he flew into the fog and clouds and plowed onto the hillside. William Wunderlich, manager of the Elko airport, was one the first at the site. He said the fog was so bad at the time that he couldn't see the airport lights. Campbell's mistake caused the death of 21 people.
Trans-Luxury Airlines. was a charter company. The plane was World War II military surplus. It was a Douglas DC-3 (C-47A-5-DL), tail number NC57850, delivered to the US Army Air Corps on March 13, 1943. It was sold to Trans-Luxury on November 5, 1945. The aircraft, configured to carry 28 passengers, remained in service until the crash near Elko.
1946 was a bad year for Trans-Luxury. Two weeks before the Elko disaster, on August 21, at Moline, Illinois, a cracked engine cylinder caused another DC-3 to crash land. Two crew members died. Twenty-two passengers and a third crew member survived.
Sources: Elko Daily Free Press, September 6 - 18, 1946; www.aviation-safety.net; "USAF Serial Number Search" at www.cgibin.ren.com; and Nevada's Northeast Frontier by Edna Patterson, Louise Ulph (now Beebe), Victor Goodwin, published by Western Printing and Publishing Company, 1969, reprinted by University of Nevada Press, 1991.
Photographs: Northeastern Nevada Museum Archives, Elko.
©Copyright 2006 by Howard Hickson