HOWARD HICKSON'S HISTORIES
[Index]
---
Poem of Murder
Elko, Nevada - 1896
In the dark early hours of Friday, October 30, 1896, Cherokee Charlie Snead (rhymes with dead, no pun intended) was brutally murdered outside the Commercial Hotel. Not much is known about Charlie. He was a cowhand with "Hoc" Mason out at Deeth who reported that Charlie was a half breed Cherokee who came to Elko a couple of days before his deadly rendevous with the Grim Reaper. He had a good bit of back pay in his jeans.
He rode into town on Wednesday afternoon and put his horse up at Nelson's livery stable. He walked to the Commercial and, reported a writer in the Elko Independent, got comfortably full and remained in that condition up to the time he was last seen alive around one a.m. on Friday.
He had been on a 24 hour binge when he visited G.S. Garcia's harness and saddle shop where he bought a $35 saddle. After paying for the gear he pulled $75 from his pocket, took out five dollars and asked Garcia to hold the rest of the money until he was ready to leave town. Snead left to continue work on his drinking.
Dave Powell found him lying near the rear gate of the Commercial about five a.m. Cherokee Charlie was face down in a pool of blood. One hand was on his head, his boots and one stocking were off, and his clothes were unbuttoned. Powell called for help and Charlie's almost lifeless body was taken to the hospital where he died. He had been beaten with a railroad coupling pin, seriously fracturing his head several times. It was a brutal murder for a few cents if Snead even had any money left after his earnest drinking.
A fruitless investigation followed. The Independent reported that the Elko County Commissioners had ordered a $250 reward for Snead's unknown killer. With that small notice buried in the middle of the newspaper Cherokee Charlie's murder is forgotten. Officially forgotten, but remembered in a poem by "Broncho Jack" Mulcahy, a cowboy poet and evangelist.
Taken from a copy of the original poem, Broncho Jack's work is reproduced as he wrote it in his own words and style. The piece was probably written some years after the murder, he is one year off on the date and a few of the facts.
Death of Chorokee Charlie Snead at Elko Nev. (1897)
Poem, by "Broncho Jack" Cowboy Poet-Evangelist. )Original)
In the silver State Nevada, in the Village of Elko,
As I held a little service, though the ground was white with snow.
The cowboys gathered around me, by the camp fire burning red,
One cowboy played the fireman, his name was Charlie Sned.
The Boys were all good-natured, and listened to my talk,
But one "chapp" he got noisy, the Boys made him walk.
Right here we'l have good order, the "Outfit" Foreman said,
Pile on more wood there fireman, he would order Charlie Sned.
I spoke of the last great round-up, and how the "Rider Pale,"
Would soon come from his home-ranch, A drifting down the Trail.
The Boys paid good attention, one of them hung his head,
And tears started down the cheeks of Cowboy Charlie Sned.
I'd like to be a Christian Pard, my mother she was one,
I mean to keep the right Trail "Pall", but still I wanted fun.
I've rode Nevada over Jack, often wished that I was dead,
I well remember now the words, my poor old Mother said.
We bade good night to Charlie, and kind advice I gave,
My wife a prayer she offered, for that Cowboy young and brave.
We little drem't from his "home-ranch", that rider grim and pale,
Was drifting from head-quarters then, Yes, "Milling" down the Trail.
Next morning very early, sad news came to our ears,
It made my heart feel heavy, it filled our eyes with tears,
A man had been found Murdered, in the Sage-Brush laying dead.
We rode and there we found the Corpse, of the Cowboy Charlie Sned.
Last night he was so happy, came rideing into town,
Upon a bucking Bronch, to do the place up brown.
But Alas! the "pale grim Rider" as the book of Books has said,
It "cut" him from the main-Herd, there the Cowboy Charlie Sned.
So Cowboy pay attention, give heed to what I say,
Just keep in with the Trail-Herd upon the Narrow Way,
For the Round-"Up" time is coming, Lifes sun is turning red.
You'l be "cut-out" to right or left, Like Chorokee Charlie Sned.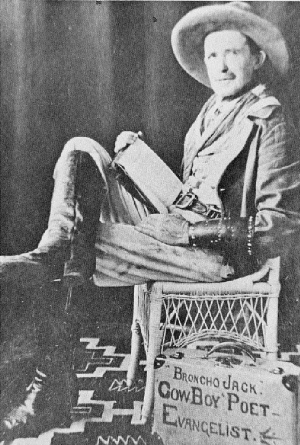 Poet-evangelist John C. "Broncho Jack" Mulcahy was born December 13, 1867, in New York City. He was orphaned at age five and he was forced to live with a relative who neglected and mistreated him. Jack hawked newspapers on street corners, shined shoes and did just abut any job that would put a few cents in his pocket. At the tender age of ten he moved to Chicago and was on his own. Around 1884, he traveled west with a wagon train.
From then, until his death in1938, he rode the west. He was a steeple painter, cowboy, preacher, and poet. Jack took time off in 1898 to join the First U.S. Cavalry in the Spanish-American War. The unit was the famed Roughriders commanded by Colonel Leonard Wood and Lt. Colonel Theodore Roosevelt.
After spending almost four months in the Veterans Hospital at Fort Whipple, Arizona, Jack died September 9, 1938. He is buried there.
Photograph from his family's collection
Howard Hickson
August 27, 2001
Notes: This story comes from an article I wrote in the Northeastern Nevada Historical Society Quarterly, Number 87-1, Winter 1987. Research came from two of Jack's grandsons, Thomas and John Mulcahy, both of Las Vegas, Nevada. My sincere thanks to them for sharing their grandfather's life. They sent poems from Jack's original poem book, news clippings, a couple of letters written by Broncho Jack, and a photogrpah. Additional information was from the Elko Independent, November 1 and 7, 1896.
"Broncho Jack's" story should be told. He remembered a friend who would have been forgotten if a poem had not been written about him, a friend who died with his boots off on a dark street in Elko instead of out on the range with his boots on. Jack's life will be remembered and two of his poems will be appear here soon.
©Copyright 2001 by Howard Hickson. Permission to use is given but, if any portion or all of this article is quoted, proper credit must be given.