HOWARD HICKSON'S HISTORIES
[Index]
---
Rio Tinto Stock
Some People Papered Their Bathroom Walls With Them (1920-1847)
Samuel Franklyn Hunt was lame but it didn't keep him from limping around the Cope Mining District looking for his dream of riches. About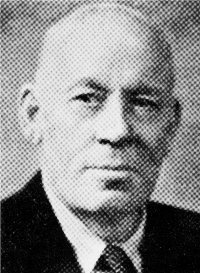 three miles southwest of Mountain City, Nevada a weathered ore-bearing rock outcropping caught his interest. Hunt strongly suspected that he had discovered not gold or silver but copper. It was 1920 and he had an impossible job of trying to persuade investors that the Cope, known for its earlier silver strikes, was also rich with copper.
While dreaming of his find he diligently tried to get the money to begin serious mining on his claim he had named Rio Tinto. The name came from famous ancient mines on the Spanish and Portuguese border.
In 1923 he and a young helper began sinking a shaft working until Hunt's sparse savings were gone. He offered the boy half interest in the mine if he would stay and work for nothing. The kid was not interested. Big mistake!
Eight more years passed with sporadic funds coming from Vivian P. Strange, a Salt Lake City mining man, and grubstaking from Jack Davidson in Mountain City. Then, in 1931, Salt Lake City promoter, Ogden G. Chase, looked over the Rio Tinto and liked its promise. The Rio Tinto Mining Company was formed and two million shares of stock were issued. Hunt sold large blocks of stock in Elko by selling them in stores, bars and even the houses of prostitution. He now had the money to get really serious about the Rio Tinto. The scene was set to mine copper from the claim that was to be the richest producer in Elko County until the 1960s when microscopic gold recovery made northeastern Nevada the largest gold producing area in the nation.
Hunt had predicted that the ore body would be found at 250 feet. A couple of log cabins and tent was the whole of Rio Tinto but that would change. Hunt wasn't far off when, in February 1932 the workers struck rich copper ore at 227 feet. The first sample tested 40 percent pure copper, later to go up to 47 percent. It had taken the geologist/prospector 12 long lean years of persistence to prove his assertion that there was copper in them thar hills.
Rio Tinto's stock, originally sold for two to five cents, shot up to $17.50. Many people who had bought shares had lost faith in Hunt and his mine. Some threw them away, some mislaid the stock, and there is a story that one owner papered his bathroom wall with Rio Tinto certificates. It was a daily reminder of his folly.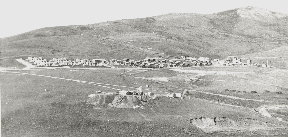 Rio Tinto Mine is in the foreground, the company town is in the center of the photo
International Smelting and Refining Company purchased a majority interest in three claims and called their enterprise Mountain City Copper Company. The new owners immediately built a company town. Small homes and apartments were put up. It was an amazing scene in northeastern Nevada. A mining camp turned into a small orderly community with streets, lawn and flowers. Then came a social center, movie theater, a hospital, an elementary school and a high school.
For 15 years times were great in the Mountain City area. Prosperity had returned but, as the old saying goes, "All good things must come to an end." When it ended in late 1947, Rio Tinto and its two close by sister mines had produced $21,339,300.
Mountain City is still a couple of miles up north but Rio Tinto is continually crumbling into debris. A few decayed walls are evidence of a more vital time when the sounds of mining equipment reverberated off the hills. The miners and their families had enjoyed a good, but temporary life.
Long suffering J. Frank Hunt finally made it into the big time. Although trained as a geologist he was, in his heart, one of those American West heroes, a prospector who dreamed and believed.
Sources: Nevada's Northeast Frontier by Edna Patterson, Louise Ulph Beebe, and Victor Goodwin and "Copper in the Cope - A History of Rio Tinto" by Dan Basanez, Northeastern Nevada Historical Society Quarterly, Fall 1979 (79-4). Photographs from the Northeastern Nevada Museum, Elko.
©Copyright 2004 by Howard Hickson.