HOWARD HICKSON'S HISTORIES
[Index]
---
Seabiscuit Wasn't Here
Howard Ranch, Elko, Nevada
Seabiscuit was a small, muddy colored, crooked leg horse with a mind of his own. In 1935, his first year of racing, he ran his butt off in 35 starts finishing first only five times in winning $12,150. Although running against second rate colts, the horse lost 17 consecutive races. Sure didn't look or act like the greatest race horse of his time. He had a somewhat better year in 1936.
On August 3 Charles Howard and his wife, Marcela, watch Seabiscuit win a race at Saratoga. Trainer Tom Smith advises Howard to buy the animal. Later that month they hire jockey Red Pollard because he seems compatible with the horse. Let's bring this up to speed now. Seabiscuit, a contrary horse, now has a jockey who carries about thirty pounds more weight than most other riders. Biscuit races with more weight on his back than the larger horses against which he runs. Is this a formula for success? You bet it is!
By 1940, his last year on the tracks, his cumulative record was 89 starts, 33 wins,15 places, and13 shows. He earned $437,740 - the biggest money winner of his time. He set records at almost all the tracks where he ran. His biggest triumph? Running against the 1937 horse of the year, Triple Crown winner War Admiral. Biscuit wins by four lengths in record time and becomes the 1938 horse of the year. On April 10, 1940, Seabiscuit retires. He dies of an apparent heart attack on May 17, 1947.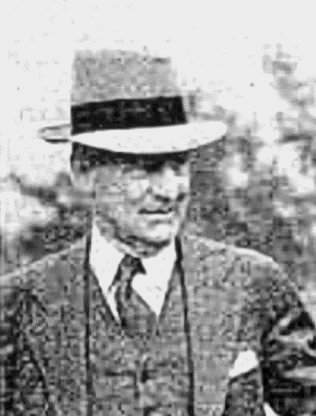 What does this have to do with Elko? Nothing really except Seabiscuit's owner bought the Hunter Banks Ranch about eight miles west of town in1942. Charles S. Howard, calling it the Howard Ranch, kept the property until1946 when he sold it to David L. Strathearn, of Ventura, California.
Howard arrived in San Francisco in 1905 with only 21cents in his pocket. Starting with a bicycle repair shop that didn't do well he saw that selling and repairing those new fangled automobiles might be better. The 1906 earthquake came and went but Howard, starting with three Buicks, became the best sales agent in the nation of the cars in a few years. He was richer than he ever imagined and eventually went into horse racing.
Hunter Ranch was started around 1870 by John Hunter, Sr. and went through many ownerships, partners, and names from then until the present. The ranch, now called Maggie Creek, is owned by Bill and Sally Searle. All told, the ranch has had more than twelve owners and one of them was Seabiscuit's owner.
What brought all this up was the movie "Seabiscuit."It is truly a great film with outstanding photography and action and, although very remote, Biscuit had a connection to Elko.
Sources: Nevada's Northeast Frontier by Edna Patterson, Louise Ulph (now Beebe), and Victor Goodwin, 1969; Seabiscuit by Laura Hillenbrand; Dr. Tom Gallagher, Elko; Elko Daily Free Press, December 22, 1942 and August 21, 1946.
©Copyright 2003 by Howard Hickson.