HOWARD HICKSON'S HISTORIES
[Index]
---
Lost In a Snowstorm
On the Elko-Cornucopia Road - 1874
Under Sheriff John J. Ellis left Elko by stage on February 8, 1874. He was headed for Cornucopia, a silver mining town in northern Elko County, to serve some legal papers. By the time his business there was finished, the stage line was not running due to snow. He was stuck in town for a couple of weeks. Ellis decided to walk back to Elko. He carried four blankets, a heavy overcoat, a few days' provisions, and a pair of crudely made snowshoes crafted from a table top.
Early in the afternoon of March 1, Ellis, walking south, met Ness Jansen carrying mail to Cornucopia. They were about two miles south of Coryell's, an abandoned station. Both were on snowshoes. Jansen told Ellis that he had left several day's supplies at Adobe, another deserted station, 11 miles south.
An hour or so after they departed company, a fierce snowstorm hit and continued with only slight breaks for 48 hours. The mail carrier made it to Coryell's where he stayed until the storm passed. He then trudged 14 miles to Taylor's. The following day he arrived at Cornucopia, spent a day there, loaded the mail in his pack, strapped on his snowshoes and started the 65-mile return trip back to Elko.
He was back in Elko by March 15. Jansen mentioned he had seen Ellis 15 days before. There had been no communication with Cornucopia for two weeks. With the ferocity of the snow storms, most everyone thought the law man had stayed in the mining camp until the weather cleared.
Now, there was reason to fear for the fate of the popular under sheriff. Search parties were sent out to scour the area where Ellis was last seen by Jansen. They found no trace of the law man. Knowing the chances of finding him alive were nil but hoping against hope, groups regularly searched the Adobe-Coryell section of road. They found nothing.
Two months later, on May 16, the Elko Independent reported that Lute Dorsey, while hunting for cattle, found Ellis' crude snowshoes standing against a rock. The site was about two miles west of Adobe, toward Susie Creek. Dorsey looked around and found two places, about one quarter of a mile apart, where someone had camped. A Mrs. Swayles, who lived on Susie Creek, found a piece of blanket similar to one belonging to Ellis.
A late bulletin in the Independent announced that his body was found about four hundred yards from where Dorsey discovered the snowshoes. It had been a long somber wait for those who had been searching for several weeks.
He had been agonizingly close to help - just a mile and a half from the Swayles' home where was warmth and food. His hands and knees were bound with pieces of his blankets trying to keep them from freezing. He struggled through the deep snow until all hope was gone. Ellis spread his blankets, rolled his coat up for a pillow, and laid down to die.
When found, the body had not been disturbed. There were $142 in coin and $20 in bills. This tallied with the journal found on his remains. Ellis had placed his empty pistol under his head. They discovered no ammunition or matches. Four of his camping places were found and none showed any evidence of a camp fire.
Members of the Masonic Lodge buried Under Sheriff John J. Ellis. Hundreds of people who knew and respected him turned out for the funeral in the lodge hall and his burial in the Elko Cemetery. His tombstone remains: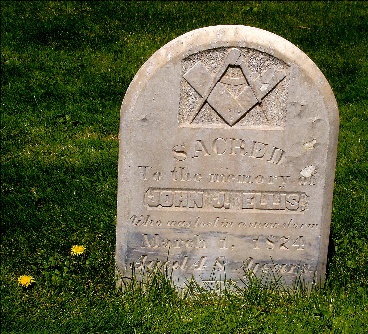 SACRED
To the memory of
John J. Ellis,
Who was lost in a snow storm
March 1, 1874
Aged 48 Years.
How did he get to northeast Nevada and meet with a dreadful death at age 48?
Ellis was born in Zanesville, Ohio on September 13, 1825. He lived there until he was 16 then moved to Missouri with his father. In 1849 he left for California to make his fortune with other gold seekers. Ellis was Sheriff of Sonoma County for two years. When his term was over, he moved to Petaluma and operated a livery business. In April 1869, he moved to Elko and ran a livery stable. When appointed Under Sheriff he gave up his business. Ellis was elected a School Trustee for Elko County. Surviving him was his father and brother in California, and a wife and son in Elko.
Elko County was part of the wild and dangerous American West in 1874. Terrible snow storms, no communication, and wheeled vehicles that couldn't travel in bad weather combined to take the life of Ellis. It is a mystery why he left Cornucopia. Was it a desire to get back to his family in Elko? Or wanting to return to work after sitting in the mining camp doing nothing but hoping the weather would clear? We will never know. His reasons died with him in the frozen snow-laden sagebrush.
Source - Northeastern Nevada Historical Society Quarterly, Summer, 1975 containing research by Gerald F. Fitzgerald, Museum Researcher, from articles in the Elko Independent; Nevada Place Names, Helen S. Carlson, University of Nevada Press, Reno, 1974; Nevada's Northeast Frontier, Edna B. Patterson, Louise A. Ulph (now Beebe), Victor Goodwin, University of Nevada Press, Reno, and Northeastern Nevada Historical Society, Elko, 1991; and Elko County Cemetery Inventory, museum archives.
Photograph of John J. Ellis tombstone by author, August 15, 2006.
©Copyright 2006 by Howard Hickson