HOWARD HICKSON'S HISTORIES
[Index]
---
Tobar, Nevada
Named for a Sign - 1908
Established in 1908, Tobar was at first a Western Pacific Railroad construction camp. Following the normal progression of settlement in those days, the first structure was erected - a bar. The owner put a sign up proclaiming his business was the Rag Saloon. Then, to make sure he got business, he trudged up to the railroad proper where he drove a stake in the ground and nailed up a board sign that said "To Bar." Railroad officials, always looking for town names, promptly gave the place its name, Tobar.
By 1910, there were sixteen homesteads around the place with big plans to dry farm. By the next year Tobar was a small town with a population of 75 with 20 dwellings. Soon there was a school on nearby Munson Ranch and a post office opened on December 20, 1911. The settlement became a main shipping point for ore from Warm Springs and Spruce Mountain mines. Produce from Clover Valley was sent to markets from there. Things were moving fast. A.B. Hoaglin laid out a townsite and constructed a two-story hotel. Locals called it the "White Elephant."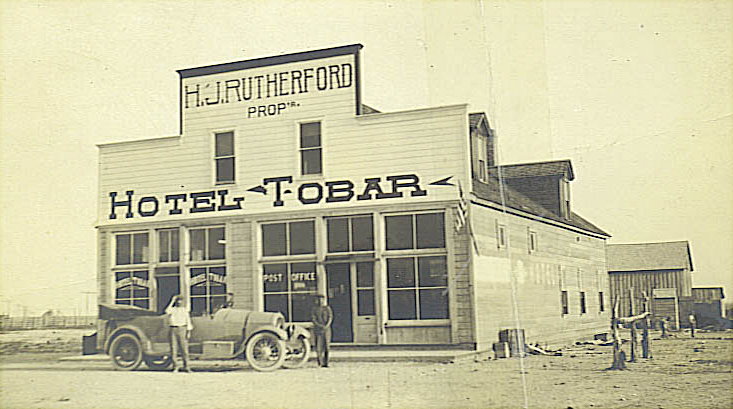 Hoaglin promoted the place as a dry farming area. Although there are few, if any, trees to be seen in and around Tobar, Hoaglin called the place "Home of the Big Apple." Promotional material proclaimed that 50 thousand acres would be cultivated and that Tobar would soon have a population of 3,000. Hey, wait just a darn minute! Nothing was said as to where the water to farm would come.
Nearly five hundred farming people flocked to the Tobar area expecting to make a good living there. Hoaglin and his brother opened three stores, the Chicago, Golden Rule, and United. There was 14 businesses in town by 1915. The next year, Tobar started downhill. The excitement wound down, especially with the farmers who were suffering crop killing drought, year after year. Tobar had only one inch of rain in 1916. And that wasn't all. Thousands of jackrabbits began eating what little crops came up. The fight to farm was too much for the farmers and, by 1917, most of them left.
Land speculators again began ballyhooing that the land was perfect for dry farming but there were few takers this time. Promoters renamed the town Clover City. It didn't help. All that was left was ore and cattle shipments. When US 93 was completed area cattle were shipped by truck and then came low metal prices. In 1921 the town took back its old name, Tobar.
It was all downhill from then on with the final blows coming in the 1940s. Western Pacific abandoned their depot, the post office closed, the school no longer had students, and the last business, the Clover Valley Store, closed.
Tobar made national news on June 19, 1969. A railroad car of bombs on the way to Vietnam exploded a mile west of town. Tobar went out with a bang, so to say. Today, there's not much left of the place, just a few crumbling foundations and holes where cellars had been - very meager proof that here was a town where people planted their dreams, suffered drought and jackrabbits, and came up with nothing.
To get there is a short drive south from Wells, Nevada on US 93, just 14 miles then turn left and continue for four miles to Tobar.
Sources: Connecting the West, Shawn Hall, University of Nevada Press, 2002; Nevada's Northeast Frontier, Edna Patterson, Louise Ulph, Victor Goodwin, reprint by University of Nevada Press, 1991; Place Names of Nevada, Helen S. Carlson, University of Nevada Press 1974.
Photograph: From the Northeastern Nevada Museum, Elko, archives.
© 2005 by Howard Hickson