HOWARD HICKSON'S HISTORIES
[Index]
---
Don't Mess with the Watchman
Elko and Pioche, Nevada - 1869
George McIntyre was in a saloon fight with several CPRR wood choppers. The men who cut wood to feed the gluttonous iron horse boilers were mostly well muscled but bad tempered. George easily dealt with them. A railroad official admired how young McIntyre defended himself and offered him a job guarding CPRR property. George took his job very seriously.
When the wood choppers heard that George was the new watchman, they gathered in a mob. Drunk, heavily armed and out of control, they shouted for the kid to show up and take his medicine.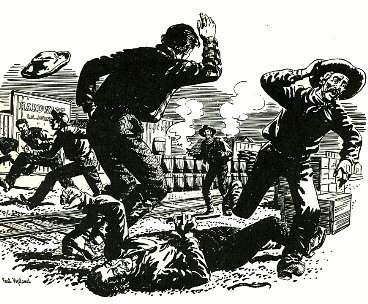 An hour later, McIntyre showed up. He had two guns in his hands. Not fooling around, he opened fire on the wood cutters. In a few seconds he fatally shot three of the men and wounded several others. McIntyre's barrage was finished before any of the mob fired a shot. They broke ranks and fled. Humiliated and embarrassed they went to their camp and buried their dead. The wood choppers didn't bother George McIntyre again. No charges were filed. Self defense the authorities said.
Sometime later, he showed up in Pioche where he met the town's big gun, Morgan Courtney. Courtney had heard about McIntyre's Elko heroics
He told George, "Pioche ain't big enough for the two of us."
McIntyre replied, "I like this town but you are at liberty to leave."
George was the first man who had ever crossed the gunman and lived. Courtney tried bullying McIntyre but it didn't work. They parted, snarling promises of what one was going to do to the other.
Pioche citizens stayed away from the main drag that day. They knew lead would be flying. Mad as hell, Courtney finally sauntered from a saloon out onto the street. Hand hovering near his pistol, he warily checked all directions. Leaving nothing to chance, McIntyre had planned for this moment and ambushed Morgan. The bad man never had chance. He fell dead with six bullets in his body.
George had done Pioche a good deed. The gunman was the first of several bad men to show up in the mining town to raise havoc. No one in the Pioche area mourned for him and no one arrested him.
The quiet man had made his mark twice in Nevada history. George McIntyre was not heard of again.
Information and illustration - Pioneer Nevada, Volume One, published by Harolds Club of Reno, 1951.
Howard Hickson, January 2007