HOWARD HICKSON'S HISTORIES
[Index]
---
The Big "E"
To the south of Elko is a large "E" on the side of a mountain. Similar to thousands of letters gracing hillsides across the nation which were usually constructed by local school or college students, the "E" is easily seen from town.
Elko's "E" was built by Elko High School boys in 1916. About sixty feet wide and 300 feet high, it is in a cleared area and is made of thousands of stones placed on the ground and then painted. It is a proud symbol for a proud community.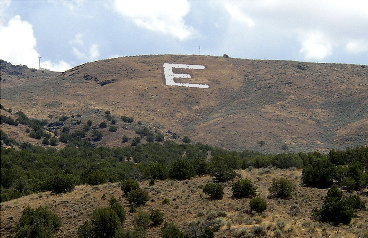 For several years, members of Elko's Gasper J. Salaz VFW Post 2350 have taken care of the E with the help of those who contribute money, pain, light bulbs, wiring, and labor. During Christmas and Easter, a large cross of lights, easily seen from town, graces the mountain side on the site of the E.
But there is more to the story.
Raymond Thomas, a physical education instructor at Elko High School, organized a camping and climbing trip in the rugged Ruby Mountains. With him were ten others - seven teachers, two eighth grade students, and a local bookkeeper.
It was late September, a perfect day to enjoy the sun's warmth and glory in the flaming yellow and gold leaves of the quaking aspen. Disaster struck and the group was caught up a canyon in a blinding snowstorm. The deadly adventure ended with search teams finding most of the group. Then they found Thomas who had gone for help. He was rushed to the hospital in Elko where he died.
A couple of weeks after the disaster, boys at Elko High School began building the "E" to show their admiration of Raymond V. Thomas, their 28-year old teacher. They pledged that the freshmen boys would be in charge of painting it each year.
Later, the canyon where the party was found was named Thomas in his memory.
Howard Hickson
March 2, 1998
Sources: Elko Daily Free Press, September and October, 1916. Gil Hernandez, former Commander of the Gasper J. Salas VFW Post 2350, Elko.
Photograph by the author.
©1998 by Howard Hickson. If any portion or all of this article is used or quoted proper credit must be given to the author.