HOWARD HICKSON'S HISTORIES
[Index]
---
They Called Him "Old Broadhorns"
Lewis Rice Bradley was born in 1805 in Virginia. His father died when he was only 13. He left school and took up mule trading to support his mother and many younger siblings. It was a career field that took him to Missouri, the mule capital of the nation. He pursued that line of work for 34 years then decided to make some real money.
In 1852, when he was 47, the short, powerfully built frontiersman bought a herd of Texas Longhorns. He pushed them west on the California Trail, passing across the place where Elko would begin to grow from the sagebrush 16 years later.
Driving a bunch of cattle, especially cantankerous Longhorns, was not easy. He arrived in the San Joaquin Valley with a 40 percent loss on the trail. Some died due to hardships along the route and others provided purloined steaks for Indians.
He prospered for ten years in California, even serving a term in the state legislature, but he felt crowded. The darned place was becoming overpopulated, in his opinion, and it was time to move on. Bradley drove his herds to Lander County, part of which would become Elko County in 1869. His herds were driven into Mound and Huntington valleys. After 1869, he made Elko his outfit headquarters.
His life was finally a success. He had everything: money, big herds, a fine family, a comfortable home, integrity, and the admiration and respect of a lot of Nevadans, especially those in politics. They sold him on running for governor of the young state.
Like everything he did, he went at the chore with stubborn purpose. He even revived a defunct newspaper, the Daily Inland Empire, with cash and used it as a campaign tool. After his election by a shaky majority of 1,052 votes, he allowed the paper to go under again.
Proudly busting his vest buttons, he sat in the governor's chair in Carson City for the first time in early 1871. He marveled that a man who had been an uneducated mule trader was now boss of one of the richest states in the Union. Lewis Rice Bradley of Elko was, by golly, the second governor of the Silver State.
Now 66-years old, with a gray beard cascading down most of his shirt front, his friends called him "Old Broadhorns," and he liked it. He wasn't going to let the job make him a snob. No siree! He was a man of the earth and was going to stay that way.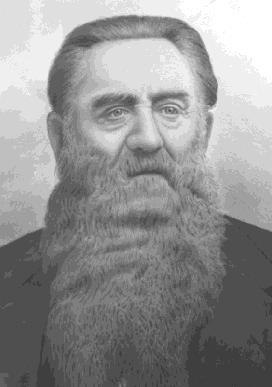 Lewis Rice "Old Broadhorns" Bradley, second governor of
Nevada. Photo courtesy of Northeastern Nevada Museum.
Bradley was pleased to be the first governor to occupy the new stone capitol building. Although the building was the most important structure in the state, it was a stature not shared with local pigs. The animals used the plaza and generally fouled up the grounds. He squeezed a bit of money from the legislature to fence the whole block.
A woman, Hannah Clapp, won the contract which might have caused "Broadhorns" to blink his eyes in surprise. He allowed her to do the job. Becoming the first female contractor in the state, she put up an excellent wrought iron fence. It's still there.
There was no straddling the fence (no pun intended) for Bradley. He always took the problem by the horns (ditto) and made a direct attack. He had a bill on his desk to sign. Lawmakers had passed a law giving mining interests a tax break. An industry representative visited the governor in his office and handed him a blank check. He told Bradley to write in any figure when he signed the measure.
Bradley hauled his powerful frame out of his chair and tore the check into confetti. Grabbing the fellow by the seat of the pants, he gave him the infamous "bum's rush" out onto the front steps of the capitol, then returned to his office and vetoed the bill.
Lawmakers later handed "Broadhorns" an unique bundle of trouble. Previously, the lieutenant governor was also the warden of the state prison. Now that's a novel idea - give the lieutenant governor something to do. When Bradley signed the bill making the position appointive, Frank Denver, the Lieutenant Governor and Warden, rallied his guards to the walls and refused to relinquish command to the newly appointed warden, P.C. Hymon.
Governor Bradley didn't pussyfoot around with Denver. He ordered out the state militia and instructed the commander to take the place, even at the cost of life. Denver, seeing troops marching on the prison, decided that "Broadhorns" wasn't fooling and turned over his keys.
In 1878, Bradley ran for a third term and lost by only 495 votes. His businesses had not fared well while he was in office. Tired, old, in debt, and almost broke, he returned to Elko where he died on March 21, 1879.
He is buried in the Elko Cemetery with a simple marble shaft marking his grave.
"Old Broadhorns" was one of those dyed-in-the-wool, honest-to-Gawd, a handshake means a binding contract, westerner who will not be forgotten. He was the first of six men with Elko County roots who occupied the highest office in Nevada.
Sources: Nevada's Northeast Frontier by Edna Patterson, Louise Ulph (now Beebe), and Victor Goodwin, 1969; and Political History of Nevada, published in 1996 by Dean Heller, Secretary of State, Nevada.
Howard Hickson
January 25, 2000

©2000 by Howard Hickson. If any portion or all of this article is used or quoted proper credit must be given to the authors.