HOWARD HICKSON'S HISTORIES
[Index]
---
First Courthouse
Elko County
Central Pacific Railroad rail laying crews reached Elko's new site in the last week of December, 1868. They immediately moved on to construct track to Promonory, Utah Territory. They left a small, but lively, tent town behind. In less than three months, Nevada's legislature created a new county from part of existing Lander County. It was named after its principal community. On March 5, 1869, the new county went into business with 1,097 people to serve, just barely over the one thousand mark required to form a county.
Needless to say, Lander people were not pleased about giving up part of their county to form Elko County. A settlement was reached requiring Elko County to assume half of Lander's debts, about $20,000. Elko also agreed to pay Lander to house Elko's prisoners until a jail was built.
Central Pacific deeded a block of land to the county for the courthouse on the northwest corner of Idaho and Sixth streets. Don't bother to ponder the location. It's the same spot where the current courthouse stands.
Commissioners conducted business from three rented adobe buildings at Fifth and Commercial streets. J.B. "Ben" Fitch rented a tent to use as a jail and court room. Fitch charged the county $75 a month. Fitch was also the sheriff. Hmmm. His canvas hoosegow was soon replaced by a borrowed CPRR boxcar parked across the tracks from the Cosmopolitan Hotel.
Walter Moberly, a civil engineer and architect, drew plans for a new court house. On August 28, W.P. Monroe's bid to construct the building for $17,744 was accepted. Dan P. Bell was hired to supervise construction.
By September 11 the foundation was nearly completed to where brickwork would begin. Then a problem developed. Stonework in the jail area was found to be too soft to hold prisoners. Bell resigned. It is not known for what reason he left the job. Louis Nolte was appointed to take his place.
Work was suspended for a few days in October until iron doors and gratings for the jail arrived from San Francisco. Then some Elko citizens complained about the plain appearance of the the new courthouse. Too much emphasis about economy they said. Plain and ugly they added. Commissioners thought it over and the project went back to the drawing board. The architect raised the walls two feet higher than original plans and added heavily ornamented cornice on the front. A portico supported by four pillars was added. The two story building was entered from an outside stairway to the second floor relegating the first floor as secondary since there wasn't a basement. Does all this make sense? I guess it does since we are talking about public officials.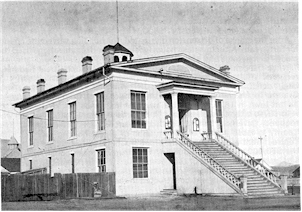 Elko County's first courthouse, northwest corner of Idaho
and Sixth Streets, around 1900. Photograph courtesy of Mr.
and Mrs. W.J. Thorpe, Elko.
On December 18, 1869, the building was ready. Officials began moving into their new offices. The place even had indoor toilets but they didn't last long.
On March 5, 1870, a grand jury report recommended "removal of the water closets in the building as they are a great nuisance and in short will render the lower story unfit for occupancy. We recommend the erection of a privy on the outside and in the rear of the structure at once. We find the prison unsafe and feel a jail break may take place at any time due to the duplicate keys to the cells and corridor."
When the contractor presented a bill for $240 for door locks, commissioners refused payment. Builder Monroe then had several sets of duplicate keys made and distributed them around town. County commissioners had to shell out $600 to replace the locks.
While construction was going on Idaho Street was renamed Williams Street. A local man, J.N. Williams, bought a large chunk of the script issued to pay for the building. This was wonderful. No longer would the main drag of a Nevada town be called Idaho. Alas, though, Williams moved from town a few months later and the street name was changed back to Idaho. Darn!
Final cost of the courthouse was about twenty-two thousand dollars, almost five thousand more than the original bid. So, what's new with construction costs of a public building?
Ten years later, after several escapes, a new jail costing $10,000 was built. In 1884, a larger vault for county records was constructed.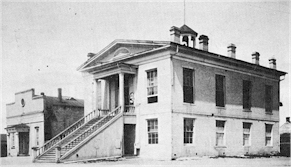 The courthouse in 1908, just two years before it was torn
down and the present building built on the same spot.
Photograph courtesy of Mary Perry, Elko
Elko County's first courthouse served for several decades until replaced by the present county courthouse in 1911. Commissioners spent $150,000 to build it. Today, a new paint job on the present building would probably cost more than that.
July 3, 2000

Note: Most of the information for this story came from "Elko County's First Courthouse," by Ethel Aldrich, Northeastern Nevada Historical Society Quarterly, Winter, 1977.
©2000 by Howard Hickson. If any portion or all of this article is used or quoted proper credit must be given to the author.