Elko's airport is expanding these days and what a difference it will be from the first crude field in 1919. It was, of course, easier and less costly to build an airstrip back then.
Mayor A.J. McBride received a telegram from the U.S. Post Office Department asking that a 600 by 1,200 foot area, hard enough to drive a motorcycle over, be cleared near town. Postal officials also asked that a 20-foot cloth cross be laid to mark the field location and that a stick, with a five-foot length of cloth tied to it, be installed in a corner of the field to show wind direction.
Appointed by McBride, local businessmen W.R Mayer, Morley Griswold, and C.F. Williams, selected a plot immediately north of the railroad corrals west of town. The ground was leveled and rolled. Elko had an airport.
Typically, the feds were slow to start. Survey crews for the new air mail routes did not fly in until August 3, 1920, more than a year after the airfield was cleared. In the green six passenger plane were pilot Bert Acosta, a mechanic, J.M. Larson (the craft's designer), passenger E.E. Allyne, and the great American air ace of World War I, Captain Eddie Rickenbacker. Nine days later the landing area was approved as a Class B airport and would be a air mail flight station.


Air Mail Service tent hangars at Rickenbacker Field (Elko
Airport) about 1921. Courtesy of the Northeastern Nevada
Museum, Elko.
Progress came rapidly. Elko's altitude, making longer takeoffs than at sea level, was not considered in the first request. Crews had to double the area to 2,300 by 2,300 feet making it a "four-way." A landing sign, 30 by 40 feet, was built and painted white. Two World War I canvas hangers were erected to get the airstrip into operation as quickly as possible. Post Office officials named it "Rickenbacker Field."
On September 9, the airplane on the new transcontinental air mail route landed shortly before noon. The craft was a standard air mail plane, a 12-cylinder de Haviland DH-4, commonly called the "Flying Coffin." Most of the planes carried a rifle as standard equipment. Not to protect Uncle Sam's mail but for the pilot to use for shooting game if downed in a remote area. There were no radios. When a pilot crashed, he hiked to the nearest telephone to call in for help.
A rash of accidents immediately plagued the department. The cause was a shortage of aircraft and a subsequent overworking of planes on hand. Less than two days after the service began a flying machine crashed between Salt Lake City and Elko. Four hundred pounds of mail were taken from the demolished plane and shipped by train to Cheyenne, Wyoming.
In the same month, J.L. Easton was forced down 70 miles from Elko with a defective generator. He landed in the sagebrush, made repairs and took to the air again. Easton was soon downed again. Distributor parts were dropped to him. He installed the parts and completed his flight.
On October 2, C.H. Black crashed from 400 feet as he was landing in Elko. The plane was totaled but Black was okay. Postal officials were distressed because townspeople carted off many souvenirs, including a $150 compass.
Elko's flight service station was opened in late 1920. The operator, using a new fangled arc transmitter, gave weather reports using a drug store thermometer for temperature and visual sightings for ceiling and visibility.
Until February 22, 1921, mail was flown only in the day time and shipped by train at night. An experiment was set up. The two westbound planes scheduled to start in New York City stayed on the ground due to inclement weather. Two aircraft from San Francisco arrived in Elko piloted by J.L. Easton and W.F. Lewis. Lewis crashed on takeoff and was killed, the first recorded death at the local airfield.
The night-day flight was achieved in 33 hours and 21 minutes. Although termed a success, 18 months passed before the service was put on a full time basis.
In the next few months better aircraft were purchased, pilots gained in proficiency and experience, and time records were frequently broken. One pilot, though, was just really unlucky. Aviator Paul P. Scott crashed 11 times in the Air Mail Service and once flying for Varney Airlines. He also suffered a broken ankle stepping from a car in Elko.
Pilot Kenneth Unger crash landed and filed the following accident report:
"I was crossing the Ruby Mountains at 10,500 feet when I broke a set of gears and landed in a very small field in the Secret Pass. A rancher riding range saw me land and rode over and let me take his horse to ride to the nearest ranch.
"After phoning Elko for help, I started back to the ship on the horse. I started to mount and the horse took off in a climbing turn before I got in the seat and had my safety belt fastened.
"To make a long story short, I over-controlled her nose, went down and I spun or sideslipped. I don't know which. I went into the ground at great speed. I broke my left ankle and was well shaken up in my second landing.
"After filling the air with smoke for a few minutes, I got on the beast again and we took off in a gentle lope and returned to the ship. Help came. We repaired the motor and I flew the ship to Elko. There I had my ankle set by the best doctor in town.
"I had to borrow a pair of crutches made for a man six foot tall and as I am five foot seven we got along fine. I had the boys at the field tack a strip to the rudder bar so I could pull as well as push. This made up for the loss of my left foot. I took off for Salt Lake City with the regular mail as usual.
"Motto: Always make sure you have your safety belt on before you take off on a western horse."
High winds blew the top off the east canvas hangar on August 27, 1922 but it was not replaced because a new permanent building was under construction. The hangar is still in use.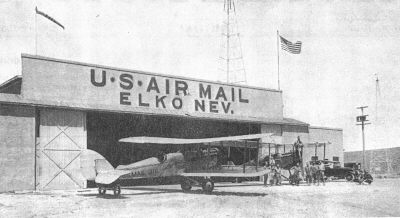 In August,1922 high winds blew the top off the east canvas hanger. Three months later the other tent hangar was destroyed by fire. Crews and planes were able to move into this new hangar on December 29. The structure is still in use at the Elko airport - Courtesy of the Northeastern Nevada Museum, Elko.
In 1925, the Kelly Act authorized contracting private air carriers for feeder lines into the main transcontinental route. Walter T. Varney, who ran a flying school at San Mateo, California, won Commercial Air Mail Route Number 5, a 487 mile mountain and desert flight from Pasco, Washington to Elko.
Varney, anticipating no passenger service, ordered six single engine 90 horsepower Curtiss "Swallows." He announced that he needed 100 pounds of mail, each way, to make ends meet. He added that his pilots were paid $250 a month, plus a bonus for dependable flying. His new airline employed a chief instructor, three advanced student pilots, four undergraduate mechanics, a bookkeeper, and a traffic man.
On April 6, 1926, Leon D. Cuddeback, Varney's chief pilot, took off from Pasco with 64 pounds of mail. He picked up more mail at Boise and then winged his way to Elko. History was made that day. Elko was the terminus of the first commercial air mail flight in the nation. The flight had taken almost nine hours - an average of slightly less than fifty-four miles an hour.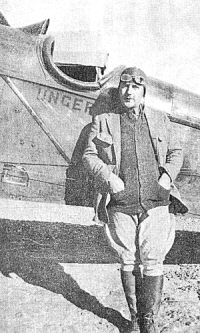 Air mail pilot, Kenneth Unger, October, 1922. Courtesy of
the Northeastern Nevada Museum, Elko.
Earlier in the day Franklin Rose had taken off from Elko with his load of mail bound for Pasco. He was downed by thunderstorms somewhere in the vast Diamond A Desert near the Nevada-Idaho border. Two days passed. Many feared him dead. Then, he called in and explained his long delay. A couple of local booze manufacturers held him at gun point until he finally convinced them that the "U.S." painted on the airplane did not identify him as a federal prohibition agent searching for stills. It took him two days to reach a telephone and call off the hoards of searchers frantically looking for him.
In less than a week of operations inexperienced Varney pilots had cracked up two more aircraft. Varney was given a 60 day grace period to get back in shape and purchase more powerful engines. Varney moved his operations to Salt Lake City on October 1, 1926. Elko remained on the main air mail route.
A month after Varney left Elko, Commander Richard E. Byrd flew in to Elko in his Fokker tri-motor, "Josephine Ford." The whole town turned out to see the first man and plane to fly over the North Pole.
Other equally famous flying personalities stopped in Elko in later years. Charles Lindbergh, Amelia Earhart, and Wiley Post, enjoyed northeast Nevada hospitality.
Sources: This story is a condensation of the first article I wrote for the Northeastern Nevada Historical Society Quarterly (Volume One, Number Two, Fall, 1970) and information from J.W. Lynch, Reno.
30 November 1999

©1999 by Howard Hickson. If any portion or all of this article is used or quoted proper credit must be given to the authors.