HOWARD HICKSON'S HISTORIES
[Index]
---
The Ghost Cries Murder
Elizabeth Potts, courtesy

Northeastern Nevada Museum
"It is a little exciting when one has the good luck to move into a veritable haunted house. So far, the ghost hasn't scared any of us, but he is here just the same. Sometimes he taps on the head board of the bed; other times he stalks across the kitchen floor, and anon (sic) he hammers away at the door and nobody's there. But the gayest of capers of all is cut up in the cellar. There he holds high revels, and upsets the pickles and carries on generally..." wrote Amelia Brewer in the Elko Free Press on January 5, 1888. She was the Carlin correspondent for the newspaper writing under the pen name of "Busy Bee."

A couple of weeks later, her husband, George, decided to investigate. Armed with an iron rod, he went down into the cellar under the house and prodded around. He found a soft spot and guessed that the floor had been dug up sometime in the past. Brewer poked the rod in the area several times. Not finding anything, he lost interest.

A week passed and he took the stairs down to the cellar again. This time he was in for a surprise. He described the scene: "I saw something that looked like a rotten turnip. I pulled up some hair and the smell came with it."

He hurriedly contacted Deputy George McIntosh who telegraphed Sheriff Lou Barnard over in Elko. Digging in the soft dirt floor, law officers unearthed mutilated remains of a man. The body had been cut into several pieces.

Brewer said, "The head looked as though it was cut off right straight across below the ears."

What was left of the skull was partially crushed, charred and without flesh. Burning and burial in damp ground left the cadaver unidentifiable. An old knife discovered in one of the dead man's trouser pockets was recognized as having belonged to Miles Faucett, a Carlin miner and rancher who hadn't been around the past year.

Suspicion centered on Josiah and Elizabeth Potts, earlier residents of the house and former friends of Faucett but they weren't around. The Potts family had left Carlin in 1887 and moved to Rock Springs, Wyoming with their two children.

Sheriff Barnard and Constable Joe Triplett traveled to Wyoming and returned the family to Elko. On the trip back to Nevada, loose-lipped Josiah couldn't keep his mouth shut and confessed to dismembering and burying Faucett's body, claiming that Miles had committed suicide in their house. He was afraid he would be charged with murder so he got rid of the body. His confession would haunt the couple's legal efforts to escape the gallows.

During their two-year stay in Carlin, nervous, mild-mannered 45-year-old Josiah worked as a machinist in the Central Pacific Railroad shops. He was considered a hard worker. The family rented in a small house owned by Tom Souter on the northeast edge of town.

His wife was also in her forties. Elizabeth was a large woman weighing around two hundred pounds. She had a fresh, healthy complexion and light blue eyes. Both were born in Manchester, England where they were married in 1863.

Josiah and Elizabeth migrated to the United States in 1865. The couple produced seven children. For reasons unknown most were adopted into different families in several states. With them in Carlin were two of their offspring; Charles, 16-years-old, and Edith, who was six.

Faucett, 57, came to Carlin from Sacramento, California a few years before the Potts. "Old Man Faucett," as he was known locally, was an old acquaintance of Josiah and Elizabeth. All three hailed from Manchester. He bought a meager spread, the Hot Springs Ranch, a few miles from town but boarded with the Potts before moving out to the place. He appreciated the favors and friendship they gave him and frequently lent them small sums of money. When Miles moved out to his new acreage Elizabeth continued doing his laundry.

Faucett, invited to the Potts' place to spend the evening on New Year's Day, 1887 arrived, tended his team and entered the house with a friend, J.R. Linebarger, who left after a couple of drinks. Old Man Faucett would not be seen alive again. Near dusk Josiah came out and drove the team and wagon away.

Miles' disappearance caused some to think it might be foul play. To those who asked, Josiah told them that Faucett had gone east on the railroad around six p.m. on New Years Day. He maintained that Miles sold him the ranch, wagon and team. He claimed that Miles and he had argued and the old man took off in a huff.

When Linebarger asked about Faucett's departure, Josiah showed him a bill of sale transferring all of Faucett's property to him. Potts told him that Faucett had tried to rape little Edith and that caused the problem. Linebarger, still unconvinced that his friend just up and left town, asked the local deputy to look into his friend's disappearance.

Deputy McIntosh rode out to Faucett's place and found the door wide open. Everything of value was gone. Some missing items were later found at the Potts' house. Nothing suggested foul play and the brief investigation was closed until poor old Miles' remains were dug up a year later.

District Attorney W.C. Love presented his sparse but damaging evidence to the Grand Jury in Elko and Elizabeth and Josiah were indicted for killing Faucett. On February 16, 1889, the couple entered a not guilty plea and were taken to jail to wait for trial.

On March 12, 1889, Judge R.R. Bigelow opened the case. A court-appointed attorney, J.A. Plummer, represented the Potts. Most of the day was taken with jury selection.

Linebarger was the State's first witness. He told about going to the Potts' house with Faucett and that Mrs. Potts persuaded Miles to stay overnight with them. Miles told Linebarger that he was staying the night to collect money owed him by the couple, adding that he knew enough about Elizabeth's past life to force them to pay the debt. The witness added that he saw Faucett's purse earlier in the day when he opened it to pay for some feed. He said the deceased had as much as one hundred dollars in twenty-dollar gold pieces.

The Brewers described finding the partially-burned body in their cellar. They were followed by Deputy McIntosh who detailed his visit to Hot Springs Ranch where he found the place ransacked.

That, in essence, was the State's case against the Potts. It had taken District Attorney Love less than two days to present the evidence.

Sixteen-year-old Charley Potts was the first witness for the defense. He testified hearing loud talk the evening of January 1 and got out of bed to see what was going on. Charles said he opened the kitchen door just as Faucett shot himself. The boy then returned to bed and claimed that the family never discussed the incident after that. He insisted that his parents had not told him what to say on the witness stand.

Next came Elizabeth, a calm and in control witness. She testified that Faucett came to their house to pick up his washing. Since it was New Year's Day, she invited Miles and Linebarger in to have a drink of whiskey. After two drinks Linebarger left.

Elizabeth claimed that her husband, around nine o'clock in the evening, was searching in her trunk for a postage stamp with which to send for a catalog and found a letter she had written to Deputy McInstosh but never mailed. The letter described an occurrence in the summer of 1886 when Miles lived in their barn while he was mining nights and before moving to his ranch. One afternoon she noticed that little Edith was missing. While searching for the child she found Faucett in the barn sitting on the edge of his bed in his drawers. Edith was sitting astride his legs with her drawers unbuttoned.

"You old wretch!" she shrieked, "I'll have you tarred and feathered for that at least." Looking at the jury, she said he threw the little girl on the bed and grabbed Elizabeth and choked her until she was black in the face. He then made her promise to say nothing about what happened.

"By the way he looked he would kill me if I did not. So, I kept doing his baking and washing as usual but kept brooding over it all the time. I didn't tell Josiah."

Elizabeth wrote an account of the episode intending to mail it to Deputy McIntosh when they moved away. At the least, it would prevent Miles from ever molesting a child again. It was this letter that Josiah found that fateful evening.

Enraged, he rushed into the kitchen and confronted Faucett who claimed he was only playing with the child. Potts screamed that he would have Miles lynched. Faucett dropped to his knees screaming, "I was crazy! I didn't know what I was doing!"

Miles offered to give the Potts everything he owned in payment of a $180 debt he owed them for board, washing, and lodging. Elizabeth composed a bill of sale which Faucett signed. Josiah threw the paper in Faucett's face and screeched, "To hell with your note!" Miles stood with his back to a cupboard.

She continued, saying that Faucett reached up with his left hand and grasped a revolver off a shelf, held it to the left side of his head and laughed, saying, "You folks will be blamed for this." With a devilish grin he fired and sank down without a word. Elizabeth, at her husband's request, went to the bedroom for the rest of night.

It was time to hear Josiah's story. Corroborating his wife's testimony, he explained that he sent his wife and Charley out of the room and closed the door. He sat with the body most of the night wondering what to do with it. He knew they would be blamed for Faucett's end and that prompted him to hide the corpse.

Josiah wrapped poor old Miles in blankets and carried the body down to the cellar. He dug a shallow grave and placed the remains in it, even putting a pillow under Faucett's head. Three months passed and Josiah, worried that the body might be discovered, dug up the cadaver, planning to destroy the corpus delicti.

In his words: "I cut up the body in pieces. I cut off the head and feet. I mashed the head with an ax in order to burn it. I chopped the feet up a little with an ax. I succeeded in burning a little of the skull and a little of his foot. I had to give it up and could not finish on account of the smell."

He gathered up his grisly handiwork and reburied the body pieces. Continuing, Josiah claimed that Faucett shot himself behind the ear and that the bullet lodged in his right eye. He then stated that Elizabeth did not, in any way, help him with the body and that he took nothing, money nor papers, from the body.

That ended the defense's case in the four-day trial. Justice was mostly swift in those days and it took the jury about four hours to find Josiah and Elizabeth guilty of first degree murder. When the verdict was read Josiah bowed his head and kept his eyes on the courtroom floor. Elizabeth, maintaining her calm, looked straight ahead, not a muscle twitched.

On March 22 the courtroom was crowded to overflowing. Judge Bigelow sentenced the couple "to be hanged by the neck until dead." Their execution date was set for May 17, 1889. Josiah's lips quivered and Elizabeth looked the judge in the eyes showing no emotion.

Their sentence was appealed and a stay of execution ordered. In November 1889 Nevada Supreme Court justices affirmed Bigelow's sentence. He set Friday, June 20, 1890 as the new date for their execution.

Sheriff Barnard was not happy with the decision. He, with many other citizens in the county, violently opposed hanging a woman, especially one convicted on circumstantial evidence. A petition signed by 267 residents was sent to the State Board of Pardons asking that the death sentence be commuted to life imprisonment. They denied it. Then Bigelow, the same judge who sentenced them to death, and Deputy Sheriff A.G. Dawley appealed on behalf of the Potts to avoid hanging a woman. The request was turned down. There was nothing to do but prepare for the execution.

Sheriff Barnard ordered a scaffold built in Placerville, California. It is ironic that an earlier name of Placerville was Hangtown. The scaffold was constructed, tested with weights, then taken apart and shipped to Elko. Barely a week before the hanging, the double gallows was put back together behind the old courthouse (same site as the present county courthouse) and stood ready for its hideous job. A tall board fence was built at the front and back ends of the jail yard between the courthouse and jail. The gallows waited in the southeast corner where it was tested with bags of sand and "worked like a charm."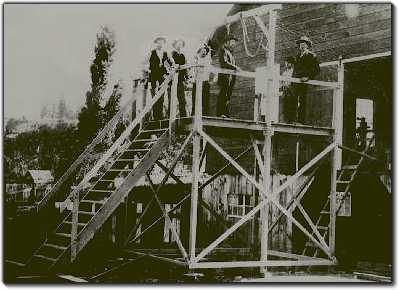 Gallows for Potts Hanging, courtesy Northeastern Nevada Museum
Barnard issued black-bordered invitations to several people, other Nevada law officers, and editors of the local newspapers.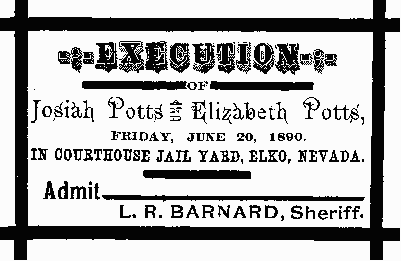 Invitation, courtesy Northeastern Nevada Museum
Josiah and Elizabeth endured in agony the sounds of construction and realized that the end was near. He paced his cell and she endlessly cursed the world and all its inhabitants. Thursday morning, the day before the execution, she cut her wrists with a small penknife she had hidden on her person. She climbed onto her cot, covered herself with a blanket, and called to the jailer, Stanley Taber, to play her a tune to soothe her to sleep. Taber, suspicious about her using a blanket on a warm June evening, pulled the cover back. They called a doctor and he stopped the bleeding. Frustrated, she screamed, ranted, and blasphemed the whole world until she finally fainted from loss of blood.
Friday morning came bright and clear. It was June 20, 1890. Many people came to town, mostly reporters, sheriffs and ex-sheriffs. An air of frenzied excitement swept over the whole community. Of those invited to the event, 52 came to witness the hanging. No ladies were there - all their requests were turned down.
At 10:30 a.m. officers offered the condemned a small bottle of booze. The alcohol was taken after a brief prayer by Reverend C.J. Porter. When the death warrants were read, Mrs. Potts lifted her right hand saying, "Innocent, so help me God. We are innocent, that's all we can say; we are innocent from first to last."
They were given another stiff drink then led from the jail to the yard and began calmly climbing the steps of the gallows. A silent crowd watched grimly.
Elizabeth was dressed in a white dress with black silk bows at her throat and wrists. Josiah was in a business suit. They were bound, their shoes removed, and legs strapped. The couple stood, leaned forward and kissed affectionately. Black hoods were pulled over their heads and nooses slipped around their necks.
Josiah kept murmuring, "Lord have mercy on me."
Elizabeth appealed, "Lord have mercy on my soul."
Barnard tripped the trap door at 10:44. A singular gasp was heard from the crowd as blood streamed down the front of Elizabeth's white dress and dripped into a pool at her feet. Her head was almost severed because of her heavy weight. Josiah slowly turned around two or three times and his legs contracted once. At 11:08 Elizabeth was cut down and turned over to the undertaker. A few minutes later Josiah was placed in a coffin next to hers in the back of a wagon and they were taken to the cemetery.
San Francisco Daily Report editors wrote: "It is to the credit of Elko, Nevada, that it hangs a woman guilty of murder. It is a dreadful thing to hang a woman but not so dreadful as for a woman to be a murderer. Evidently Elko possesses citizens who, when on a jury have some respect for their oath. In San Francisco Mrs. Potts would have walked out of court a free woman."
Other somber realities about this case: The hanging of Josiah and Elizabeth was the second and last legal execution in Elko County; the hanging of Elizabeth Potts was the first and last time a woman was lawfully executed in Nevada; and it was the first legal execution of a woman in the entire Pacific Coast region.
Several years ago, I interviewed Charles Paul Keyser, then in his nineties. He was a teenager when he climbed a pole to watch the hanging. His uncle was the local undertaker and young Keyser hitched a ride on the wagon carrying the caskets to the cemetery.
After he had told me the story of the murder and trial, I asked him, "This couple was convicted pretty much on circumstantial evidence. Do you think they were guilty?"
Agitated more than a nonagenarian should risk, he blurted, "Hell, yes! Everybody knew they did it!"
12 March 1998
---
For some of this story I researched from an article titled "Double Gallows" by Debra Braithwaite published in the Fall 1973 issue of The Northeastern Nevada Historical Society Quarterly. She has my sincere gratitude. Other information came from the Charles Paul Keyser (now deceased) interview and personal research from the Elko Free Press and Elko Weekly Independent, selected issues of 1889 and 1890. Val Rogers, Elko, supplied the first name of Amelia Brewer. For more than one hundred years she has been known only as Mrs. George Brewer in this murder case. Thanks, Val.

29 March 1998

©1998 by Howard Hickson. If any portion or all of this article is used or quoted proper credit must be given to the authors.


[Back to Hickson's Histories Index]