HOWARD HICKSON'S HISTORIES
[Index]
---
Dog Bites Car
Columbia Basin, September 26, 2004
It was a great northeastern Nevada Autumn day and the Quaking Aspen had turned gold up north in Columbia Basin. The trip was Dale Porter's idea. With his wife, Celeste, and the Hicksons, Terry and Howard, he drove north from Elko on the Mountain City Highway. We had everything we needed - lunches, binoculars, and cameras.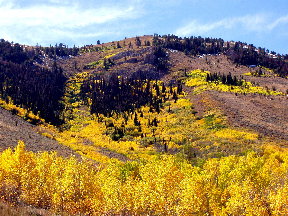 A few miles past North Fork we turned west and there was the start of countless explosions of gold, red, and green splashed on the mountainsides. Each turn in the road revealed another breathtaking landscape. We did a lot of oooing and ahhhing. We also do this during the spectacular fireworks shows in Elko on Independence Day. Mile after mile, nature put on a magnificent performance for us. Why am I trying to describe the colors with words? Can't be done. You have to go and see for yourself.
We had lunch in a campground near Jack Creek then continued down the canyon and turned right toward Deep Creek and headed back east on the Trail Creek Road. Remember now, out here a creek is called a crick.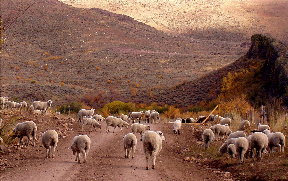 Driving over a hill, sheep suddenly surrounded us. It was almost gridlock until one of them saw us and took off. Well, you know sheep. They all scampered away while we looked at a sea of sheep rumps.
A mile or so down the road we saw sheep pens, livestock trucks, and several men. The pens were packed with sheep waiting for transportation to winter grazing grounds. We waved as we drove by.
Then it happened. Two white sheep dogs jumped a fence near the road and took off after us. Barking and snarling, they tried to jump on the car. We rolled up the windows. The dog at the back wasn't about to give up until Dale put the pedal to the metal. Both dogs, finally tired, reluctantly stopped on the edge of the road, tongues hanging out and breathing hard.
Naturally, we commented about the dogs. None of us had seen such a savage attack on a vehicle before. Most the time, when a dog chases a car it's all noise. The incident quickly was forgotten while we drove on continuing to admire the Quakies.
Continuing on Trail Creek Road, we stopped to look at the "Auto Parts Gang" which in itself is worth the drive. They're a bunch of sculptures made of pipe, tractor seats, metal drums and other miscellaneous parts, nuts and bolts. They're a hoot.
Late in the afternoon, back in Elko, we were unloading and saw several teeth scratches on the SUV. One had punctured plastic side molding, leaving a large bitemark. If a car could bleed there would have been a mess on the driveway. Dale didn't call his auto insurance agent - it would've been too hard to explain.
Photographs by the author.
©Copyright 2006 by Howard Hickson