Great Basin College Library Circulation Policy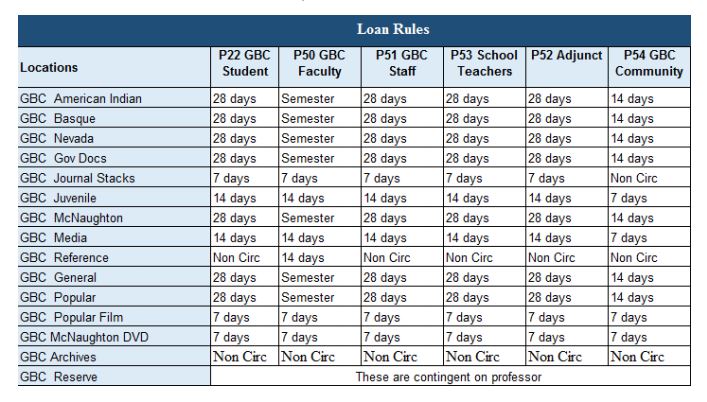 Notifications/Overdue Parameters
All notices are sent by UNR, via email (with our email gbc-library@gbcnv.edu). If there is no email on the patron record, the notices are sent to a queue for printing and sent via post mail.
3 days before due date: Courtesy notice is emailed to patron reminding them to return item, or renew.
3 days after due date: First OVERDUE notice  6 days after first notice: Second OVERDUE notice.
14 days after second notice: BILL: Third notice is a bill for replacement of material(s).

Item is in OVERDUE status for 23 days before it hits replacement and billing. Late Fees / Overdue Costs Books are 20 cents per day (late fee); DVDs are $5.00-$7.50.
Renewals of Library Materials
All patrons may renew materials twice (2 times). If a patron tried to renew a third time, the circulation system will limit any further renewals so patrons must do one of the following:
Bring the item to the library circulation desk for renewal
Call the library circulation desk to renew
Renew online https://innopac.library.unr.edu/patroninfo
Please note periodicals, DVDs, and videos will not renew online, these items must be renewed via a library staff member.
Items cannot be renewed if another patron has placed a "hold" or "recall" on the item. (Holdmeaning, the library has committed to lending this item to the patron as soon as the item is returned.)
Recalls of Library Materials
All books are subject to recall one week after being checked out. The patron has one week to return the book after it has been recalled. If the item is not returned, a "freeze" will be placed on the GBC College account (meaning the student cannot register for classes or receive transcripts), and all borrowing privileges will be suspended. Any faculty, student, or staff can recall a book.
Reserves Items
Items are placed on reserve for college classes by the course instructor. These materials have strict loan limits placed upon them, determined by the instructor. These materials sometimes are library owned, however other times they are property of the instructor! Loan periods are 2 hour in library use, 12 hour use (overnight or non-overnight privileges), 1 day use, 3 day use, or 7 day use. Recalls cannot be placed on reserve items and they may not be renewed.
Claims Returned
If a book is overdue or billed and the patron claims to have returned it to the library, the patron will be asked to complete a "claims return" form located at the circulation desk. This form will gather when they think they returned the book, where (book drop or at counter?), and also ask them to conduct a search (in bookcases at home, in their car, etc.). The library will also conduct an extensive search. If the item is not found, ultimately the patron is responsible for the item they borrowed – it is the patron's responsibility to ensure the item is returned in a timely manner. The patron is responsible for replacement or paying the replacement bill.
Penalties for Outstanding Fines and Overdue Material(s)
The Circulation Manager, the first working day of the month, will also run a list of over dues and money owed for all patrons. Students who have chronically overdue books and/or owe more than $5.00 will have their records placed on hold; which means they will not be able to receive transcripts, grades, or register for classes until their account is cleared. Community patrons with overdue materials and fines will lose library privileges and depending on amount of money owed, could be turned in to a collection agency.
Replacement Books in Lieu of Bill
The library will accept a replacement book in lieu of paying the entire replacement bill, if these conditions apply:  The book must be exactly the same: author(s), publication and edition, hardback or soft cover.  The book must be in GOOD condition If this option is used, the patron will have to pay a processing catalog fee of $7.50. If the book is later found by the patron and the library has already processed the replacement, the patron will own the found book – we will not refund nor re-catalog the book.
Interlibrary Loan/Borrowing
Inter-Library Loan (ILL) is a service that supports the mission of Great Basin College Library by providing enhanced access to and delivery of research and instructional materials. The purpose of ILL is to obtain material not available (i.e., material not owned, currently signed out, or missing) in the Great Basin College Library and to provide material from Great Basin College Library collection to other libraries. This service is governed by the Inter-Library Loan Code for the United States and the Copyright Law, Title 17, US Code.
Qualified Users
Students, staff, and faculty of Great Basin College and Elko County school district members with a current Great Basin College or University of Nevada, Reno library card are eligible to request an interlibrary loan.
Borrowing Guidelines
Books may be requested by using the GBC Library Online ILL Form for books, or by printing a copy of the page from the online catalog and taking it to the circulation desk in the Library. Borrowers may request up to three (3) books at a time and will be contacted via telephone or e-mail when material arrives. It takes approximately 7-10 days to fill requests. Items will be held for 2 weeks at the circulation desk.
Books are checked out for one month and cannot be renewed. Patrons who do not return ILL books when due will receive a written notice requesting return of the items. If items are not returned within 30 days of the written notice, a fine of $5.00 per book per day (up to and including the price of the book plus a $5.00 processing fee) will be charged to the patron's library record from the date of the written notice until the items are returned. A hold (freeze) will be placed on the patron's student records until the fines are paid.
Journal articles may be requested by using the GBC Library Online ILL Form for Journal Articles.
Great Basin College Library will lend any item which normally circulates, including periodicals, with the following exceptions:
Non-circulating items such as reference, archival or items on reserve;
Audio visual materials such as videos and DVD's;
Computer Software.
For More Information Contact
Great Basin College Library
McMullen Hall
1500 College Parkway
Elko, NV 89801
775-753-2222
Why Great Basin College
Great Basin College wants to be your choice for higher education. GBC offers associate and baccalaureate level instruction in career and technical education and academic areas. About 3,800 students are enrolled online from across the country and on campuses and centers across 86,500 square miles, two time zones, and ten of Nevada's largest counties. We border Arizona, Oregon, Idaho, Utah, and California. We are GBC!