Library Events
The Great Basin College library offers ongoing programs and events throughout each semester, including art exhibits, a lunch lecture series, historical and culture programming, and workshops. If you are interested in having the GBC Library host your event, please contact the Library at 775-753-2223 or gbc-library@gbcnv.edu.
Please check back to see upcoming events at your library.
Events
Lunch Lecture Series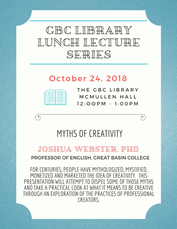 "Myths of Creativity" with Joshua Webster
With: Joshua Webster, PhD, GBC Faculty member
When: Wednesday, October 24, 2018 • 12 noon to 1PM
Where: The Great Basin College Library – Elko
For centuries, people have mythologized, mystified, monetized and marketed the idea of creativity. This presentation will attempt to dispel some of those myths and take a practical look at what it means to be creative through an exploration of the practices of professional creators.
Josh Webster is a Professor of English at Great Basin College where he teaches courses in creative writing, literature and composition. He earned his PhD from the Center for Writers at The University of Southern Mississippi and has written for short fiction journals and theater.
Facebook: https://www.facebook.com/events/
596307657438646/
Onging Exhibits
Elko Art Club Exhibit
A new exhibit from the Elko County Art Club is on display now at the GBC Library. Artists include Tess Senrud, Karie Denham, Dave Patton, and Glen Ellen Finley. The exhibit features a variety of mediums including photographs and acrylic paintings. Please stop by the library anytime within normal business hours to view the work. 
For More Information Contact
Great Basin College Library
McMullen Hall
1500 College Parkway
Elko, NV 89801
775-753-2222
Why Great Basin College
Great Basin College wants to be your choice for higher education. GBC offers associate and baccalaureate level instruction in career and technical education and academic areas. About 3,800 students are enrolled online from across the country and on campuses and centers across 86,500 square miles, two time zones, and ten of Nevada's largest counties. We border Arizona, Oregon, Idaho, Utah, and California. We are GBC!