How to Find Items and Read Call Numbers
The GBC Library uses the Library of Congress Classification (LCC) as call numbers. It is different from the Dewey Decimal System in that it uses both letters and numbers. The letter(s) at the beginning of the call number mean something. The following is a broad definition of the letters. "I", "O", "W", "X" and "Y" are not used.
Library of Congress Classification
A. GENERAL WORKS
B. PHILOSOPHY. PSYCHOLOGY. RELIGION
C. AUXILIARY SCIENCES OF HISTORY
D. WORLD HISTORY AND HISTORY OF EUROPE, ASIA, AFRICA, AUSTRALIA, NEW ZEALAND, ETC.
E. HISTORY OF THE AMERICAS GENERAL
F. HISTORY OF THE AMERICAS LOCAL
G. GEOGRAPHY. ANTHROPOLOGY. RECREATION
H. SOCIAL SCIENCES
J. POLITICAL SCIENCE
K. LAW
L. EDUCATION
M. MUSIC AND BOOKS ON MUSIC
N. FINE ARTS
P. LANGUAGE AND LITERATURE
Q. SCIENCE
R. MEDICINE
S. AGRICULTURE
T. TECHNOLOGY
U. MILITARY SCIENCE
V. NAVAL SCIENCE
Z. BIBLIOGRAPHY. LIBRARY SCIENCE. INFORMATION RESOURCES
Parts of a Call Number
Read call numbers line by line: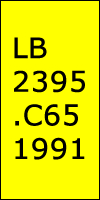 Read the first line in alphabetical order. For example: A, B, BF, C, D, L, LA, LB, LC, M, ML, etc.
Read the second line as a whole number. For example: 1, 2, 3, 45, 100, 101, 1000, 2000, 2430, etc.
The third line is a combination of a letter and numbers.

Read the letter alphabetically.
Read the number as a decimal. For example: .C65 = .65, .C724 = .724.
Some call numbers have more than one combination letter-number line.

Read the fourth line as the year the book was published. Chronological order. For example: 1985, 1987, 1991, 1992, etc.
For More Information Contact
Great Basin College Library
McMullen Hall
1500 College Parkway
Elko, NV 89801
775-753-2222
Why Great Basin College
Great Basin College wants to be your choice for higher education. GBC offers associate and baccalaureate level instruction in career and technical education and academic areas. About 4,000 students are enrolled annually online from across the country and on campuses and centers across 86,500 square miles, two time zones, and ten of Nevada's largest counties. We border Arizona, Oregon, Idaho, Utah, and California. We are GBC!