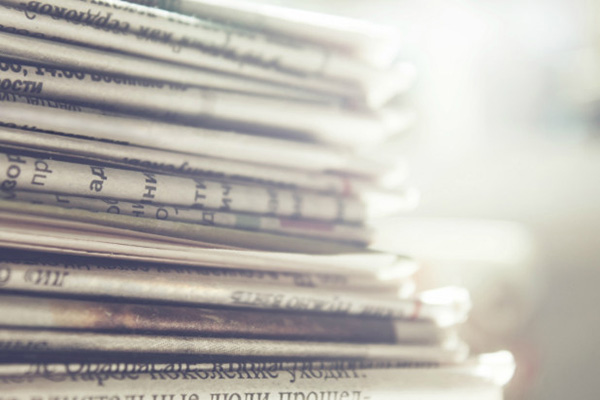 Centennial Boot Commemorates GBC 50th Anniversary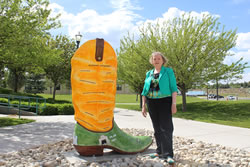 An Elko Centennial Boot is sure to catch the eyes of onlookers at the intersection of Elm and 13th streets in Elko. Easily visible from the road, the green and gold boot is sponsored by Great Basin College and decorated by Lamoille Artist Kristi Lyn Glass.
Not only does the boot installation celebrate Elko's 100th Birthday, but its arrival also marks the college's 50th Anniversary, a theme Glass explained she kept in mind while planning the boot's overall design.
"I wanted to create a graphic-oriented design that would be meaningful to the college and the community for many years to come. The boot also commemorates GBC's 50th Anniversary, which is also celebrated this year. I feel very fortunate to have been given the opportunity to work on this special project for both the city and GBC. I hope the boot is meaningful to current, past and future students."
Glass opted to airbrush paint the boot in GBC's official colors, green and gold. Waterproof, UV-resistant, adhesive lettering and graphic decals were used to create the lettering and graphics on the boot, listing all the academic programs at GBC as well as words all too familiar to college students.
The largest decal displayed is the GBC 50th Anniversary logo, designed by GBC Graphic Design Instructor Kathy Schwandt.
"GBC had some beautiful commemorative medallions made to honor GBC's 50th anniversary this year, so GBC President Mark Curtis provided me with two of them to position in brass bezels at the base of each boot pull," said Glass.
Curtis said a common theme of this year's 50th celebration has been to honor the community members who worked very hard to make the college what it is today.
"GBC salutes the City of Elko, friends of the college and the community members who have supported GBC's growth. GBC is truly lucky to be a part of Elko's history."
The GBC Centennial Boot is located on the GBC campus, adjacent to the intersection at Elm and 13th streets, near the Diekhans Center for Industrial Technology. Community members are welcome to visit campus to view and enjoy the boot.
For More Information Contact
Kayla McCarson
Marketing/Social Media Specialist, Student Services
E-mail: kayla.mccarson@gbcnv.edu 
Phone: (775) 753-2105
Why Great Basin College
Great Basin College wants to be your choice for higher education. GBC offers associate and baccalaureate level instruction in career and technical education and academic areas. About 3,800 students are enrolled online from across the country and on campuses and centers across 86,500 square miles, two time zones, and ten of Nevada's largest counties. We border Arizona, Oregon, Idaho, Utah, and California. We are GBC!