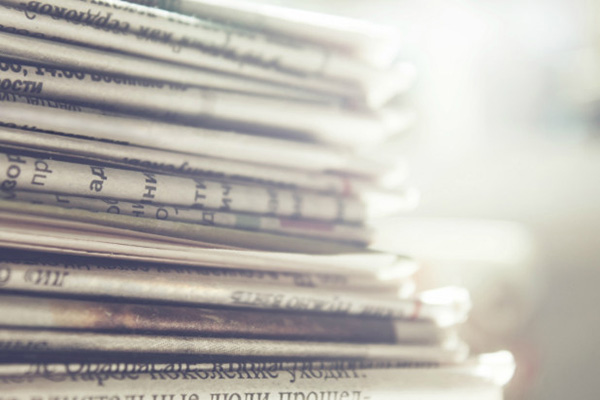 Shaping the Future Together Series
Honoring Presidents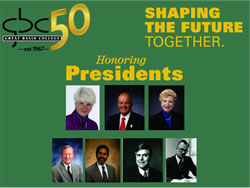 Joyce Helens, GBC President, August 2017: Helens is the 10th GBC President. Helens served as the MinnState System President of St. Cloud Technical and Community College. During her tenure, she built the college's nationally recognized, comprehensive community and technical college. Helens will be on campus beginning August 2, 2017. "My husband and I look forward to building our home here," said Helens.
Dr. Mark A. Curts, GBC President, July 1, 2012-June 30, 2017: Curtis served as the 9th GBC President. He recently announced his plans to retire effective June 30, 2017. Curtis' 46-year career includes service as a designer, engineer, educator, author and leader. "In the past five years, graduation numbers have increased, new bachelor's degrees added, a Veterans Resource Center established, and the Nye County service area expanded. The availability and innovation of GBC's online courses and programs under Dr. Curtis' direction continues to be commended across the country," said Lynn Mahlberg, Vice President for Academic and Student Affairs.
Curtis recently updated his book titled the Handbook of Dimensional Measurement, now in its 5th Edition, and is considered the standard reference work the field of Metrology. In retirement, Curtis plans to continue writing and consulting within academic disciplines that include metrology, precision parts manufacturing and leadership.
Lynn Mahlberg, GBC Acting President October 21, 2011-June 30, 2012 and July 1-31, 2017: Mahlberg served as the 8th president and first woman to lead GBC. She holds an MBA from Golden State University. Mahlberg has over 26 years of service at GBC and began work as the director of admissions and records in 1991. She has held various other positions including: affirmative action officer, administrative officer, and dean of enrollment management. "Throughout her long career at GBC, Lynn Mahlberg has played a critical role in the college's growth and success," said Board of Regent Jason Geddes.
Carl A. Diekhans, GBC Interim and President, Appointed Interim in 2001 (one year) and 2008 (three years): Diekhans served as the 7th president for GBC. Diekhans came to Great Basin College in 1980, beginning his career as a professor of mathematics. In 1989, he became Associate Dean of College Services. In 1994, he was named Vice President for Administrative Services.
When former president Dr. Ron Remington departed in 2001, Diekhans was appointed as Interim President and served in that capacity until the appointment of Dr. Paul Killpatrick. Diekhans resumed his role of Vice President of Administrative Services but again served as Interim President when Killpatrick left GBC. He was later appointed president by the NSHE Board of Regents and served for an additional three years before retiring.
Dr. Paul Killpatrick GBC President July 1, 2002-June 30,2008: Killpatrick served as the 6th president for GBC. During his tenure, the Diekhans Center for Industrial Technology was built and bachelor's degrees in nursing and secondary education were added. Student housing was also made available.
Dr. Ron Remington GBC President 1989-2001: Dr. Ron Remington was the 5th President serving the college when it was named Northern Nevada Community College and Great Basin College. Remington was appointed president in 1989 after serving as dean at Truckee Meadows Community College. According to Dean of Student Services Stan Aiazzi, "Ron actually put this campus on the map."
During Remington's tenure, the Donald W. Reynolds $4.5M campus beautification project was implemented. Remington continued his career as president at the Community College of Southern Nevada.
4th President: Dr. Bill Berg, 1979-1989
System in Transition: 1977-1978
3rd President: Dr. Charles Donnelly, 1970-1977
2nd President: Richard C. Lynch 1968-1970
1st President: Dr. Eugene Finley Voris 1967-1968
Click here to see full PDF with images.

For More Information Contact
Kayla McCarson
Marketing/Social Media Specialist, Student Services
E-mail: kayla.mccarson@gbcnv.edu 
Phone: (775) 753-2105
Why Great Basin College
Great Basin College wants to be your choice for higher education. GBC offers associate and baccalaureate level instruction in career and technical education and academic areas. About 3,800 students are enrolled online from across the country and on campuses and centers across 86,500 square miles, two time zones, and ten of Nevada's largest counties. We border Arizona, Oregon, Idaho, Utah, and California. We are GBC!