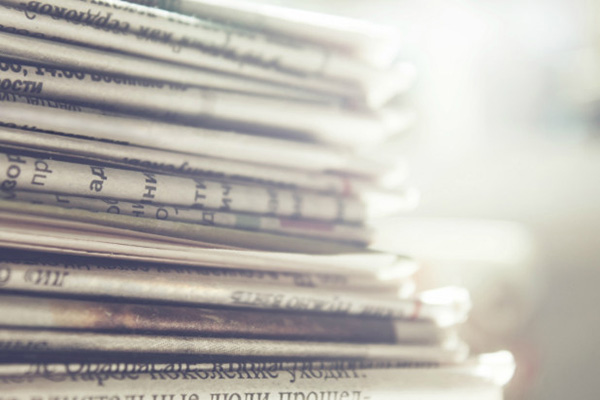 MTC Awards $2.1 Million in Scholarship, Wages
85 students receive Maintenance Training Cooperative scholarship
The Maintenance Training Cooperative (MTC) will award 85 students with the MTC scholarship and paid internship for the 2018-19 school year sponsored by local industry partners.
This year marks the twenty-fourth year since the MTC Scholarship program was established in 1994 by a group of northern Nevada mines and Great Basin College.
The goal of the cooperative, then, still holds true for the education and industry partnership today; grow our own workforce.
The MTC program offers students a $5,000 scholarship and paid internship at a local mine or contractor while completing a certificate or degree program in electrical systems, diesel, instrumentation, millwright and welding technologies at GBC.
Companies sponsoring students this year include Barrick, Kinross, Newmont, Raintree Construction, Sandvik, and SSR Mining.
Students attend their choice of morning, afternoon or night classes Monday through Thursday, and complete their internship hours on Friday and Saturday.
The interns earn about $20,000 in wages at their respected internship during the school year that helps students pay for most, if not all, expenses while completing their program.
GBC staff and representatives from the sponsoring companies begin the recruiting process every March. The recruiting process is broken down into 3 phases; pre-screening day, interviewing day and draft day.
Newmont Maintenance Trainer Manual Villanueva said the group has developed a pre-screening scale that weighs students' GPAs, test scores, work history and involvement in extra curricular activities.
"Interview day gives representatives the opportunity to meet with applicants who passed the pre-screening," said Villanueva. "After the interviews, we have a good idea which students will continue to excel while attending college and interning."
Sandvik Human Resource Generalist Kristopher Garcia said during interviews representatives from Sandvik look for students who fit with the company.
"For us, it's not so much about work history or skills as much as it is about an interest and fit with the company. We don't mind being the ones who teach students the skills they need to be a part of Sandvik," said Garcia.
Dean of Business and Technology Bret Murphy said the longstanding success of the program has been recognized by other colleges that are interested in establishing similar scholarship programs.
"Colleges in Arizona and Wyoming have approached us on creating similar models," said Murphy. "The program is unique because the college invites industry representatives to put students through a real-world, pre-screening and interview process. Come draft day, representatives have narrowed down their picks and it's comparable to a fantasy football draft -- these companies want the best performing students to train and employ."
A majority of applicants attended high school and live in GBC's area of outreach of northeastern and rural Nevada.
Seniors from Battle Mountain, Carlin, Elko, Eureka, Churchill County, Fernley, Lowry, Round Mountain, Wells, Wendover, and White Pine high schools are all recipients of the scholarship this year.
The program is also awarding a number of scholarships to students from Las Vegas and Reno, and a number from out of state.
Murphy attributes the prevailing success of the MTC program to the sponsoring companies.
"The MTC scholarship would not be possible without the support and time that industry puts into it," said Murphy. "Giving students the opportunity to attend college and gain valuable experience all expenses paid is evident these companies care about the communities they are a part of."
(Photo identifications left to right)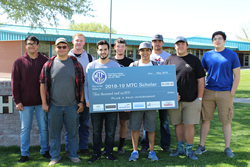 ELKO: Jose Martinez, Hayden Tsunemori, Mason Hersey, Isaiah Salazar, Trevor Bruch, Damin Marin, Fabian Luna, Travis Paul, and Victor Carrillo.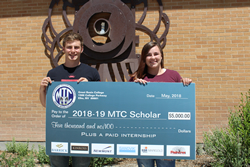 CARLIN: James Payne and Kyra Neptune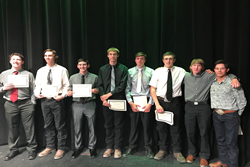 CHURCHILL: Hayden Fulk, Leo Aicher, Chance Wood, Blane Aicher, Conner McGowan, Craig Clark, Dakota Welch, and Luis Orozco. Not pictured: Hunter Parsons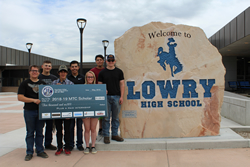 LOWRY: Front Row: Eli Cunningham, Hunter Albisu, Audrey VanBuren Back Row: Robert Morrison, Eric Venzor, Joel Loya, Alex Weidemann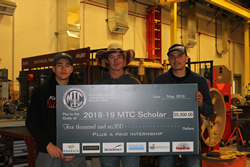 LOVELOCK: Fernando Jimenez, Hunter Burrows, and Martin Cholico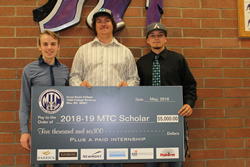 SPRING CREEK: Jakob Hansen, Wyatt Sharp, Kyler Filmore, (not pictured: Asa Zimmerman)

WELLS: Juan Berumen
For More Information Contact
Kayla McCarson
Director, Marketing & Communications
E-mail: kayla.mccarson@gbcnv.edu 
Phone: (775) 753-2105
Why Great Basin College
Great Basin College wants to be your choice for higher education. GBC offers associate and baccalaureate level instruction in career and technical education and academic areas. About 3,800 students are enrolled online from across the country and on campuses and centers across 86,500 square miles, two time zones, and ten of Nevada's largest counties. We border Arizona, Oregon, Idaho, Utah, and California. We are GBC!