About the Program
Welding is a necessary skill for today's technicians and field mechanics as well as for those who want to develop a career in metal fabrication. The College's Welding Department has become the center for welding technologies in Northeastern Nevada. With highly qualified instructors, GBC provides the
opportunity to learn the standard methods of Shielded Metal Arc Welding (SMAW), Flux Cored Arc Welding (FCAW), Gas Metal Arc Welding (GMAW), and Gas Tungsten Arc Welding (GTAW), as well as Oxyfuel, Air Carbon Arc, and Plasma Arc Cutting. For more information, call 775.753.2175.

Great Basin College has Certified Welding Inspectors on staff so that students can earn an AWS certification.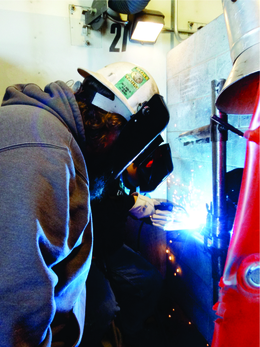 *PDF files require the Adobe Reader for your browser, available free from Adobe.