NOTICE
MyGBC self-service payment center will be unavailable due to maintenance on February 16, 2016 from approximately 11pm to February 17, 2016 at 6am. We apologize for any inconvenience this may cause.
MyGBC Self-Service Center
Get Started
Once your application for admission is processed, you will be given a username and password for signing on to the MyGBC Self-Service Center. Click to view the GBC 2016 Spring Schedule! For drop dates and other valuable information, click on our Spring 2016 Academic Calendar!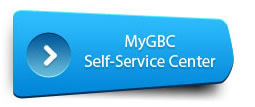 Click to enter the MyGBC Self-Service Center!
There, you can:
Learn the name of your advisor
Enroll in classes
Learn your financial aid status
Pay for classes
Obtain your grades
View your unofficial transcript
Keep your contact information current
and more...
For ease of navigation within the MyGBC Self-Service Center, please use the Mozilla Firefox or the Google Chrome browser or Version 9 of the Internet Explorer browser.
For help with the MyGBC Self-Service center, click here.
Learn More About "15 to Finish"
For More Information Contact:
Great Basin College 
1500 College Parkway
Elko, Nevada (USA) 89801 
Phone: 775-753-5087
Why Great Basin College
Great Basin College wants to be your choice for higher education. GBC offers associate and baccalaureate level instruction in career and technical education and academic areas. About 3,800 students are enrolled online from across the country and on campuses and centers across 86,500 square miles, two time zones, and ten of Nevada's largest counties. We border Arizona, Oregon, Idaho, Utah, and California. We are GBC!