HOWARD HICKSON'S HISTORIES
[Index]
---
Doby Doc: Part One of Four
Northeastern Nevada and Las Vegas (1890-1979)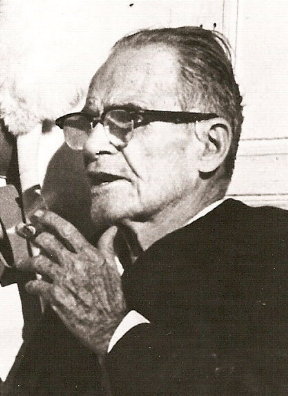 If there was ever an honest to goodness died in the wool Western character, Doby Doc fills the bill. Many of his antics were unbelievable but there were eyewitnesses and victims who can tell. A great deal of gray area surrounded his deals.
Robert F. Caudill was his real name but most everyone knew him as Doby Doc. His philosophy boiled down to him getting away with thievery and not getting caught. That made it all okay. We're not talking about simple everyday theft. We mean legendary stealing.
"Gawd helps those who help themselves." - Doby Doc.
Sometime after the Eureka-Nevada Railway (formerly the Eureka and Palisade Railroad) narrow gauge closed down, Doby took possession of an engine and other rolling stock. Enough to make up a whole train. Now, that's big time theft.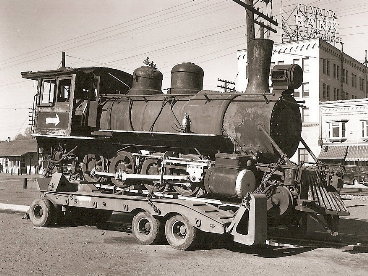 Eureka-Nevada Railway engine in Elko. Doby Doc said he had Wells Fargo bring it to town. Northeastern Nevada Museum Archives, Elko.
Doc stole an ore car and rails out of the Dexter mine in Tuscarora to build a dam. While he was busy pulling track and shoving rails down to Lawrence Jackson to load on a wagon, Constable George Gilmore walked up and began questioning Jackson. About the same time, Doc yelled down and asked what was going on down there.
"I might have known it was you, Doc." Gilmore called back.
He climbed up the hill to the mine where he and Doc talked for a few minutes. Doby shouted to Lawrence to go ahead and load up.
Doc always claimed to have close relationships with law enforcement officials.
The dam was across the Little Owyhee River and Doc was sighting down a wire with a level. He was leaning against a rock when Jackson walked up and saw a rattlesnake by Doc's arm. Lawrence grabbed a shovel and killed the snake. Doc didn't say anything about the rattler and continued working. Later in the afternoon, Jackson noticed that Doc was spread eagled under the scaffold in the hot sun. He had been bitten. Jackson said that Doc told him what do, even using the suction cup himself to draw out the venom. He was very sick for a couple of days, then went back to work. All their labor was for naught. When the two were away one day, the dam was blown up. Nearby ranchers and Indians hadn't been too enthusiastic about the project.
Doc later made off with the Tuscarora jail house. He added shackles on one wall and told people that they had held some of the West's most despicable lawbreakers in the jail. Tuscarorans knew that was a bald-faced lie. They remembered seeing only a few drunks in the jailhouse and they weren't chained to the wall.
Somewhere along the way, the North Fork schoolhouse and Elko's Chinese Joss house also ended up in Doc's collection.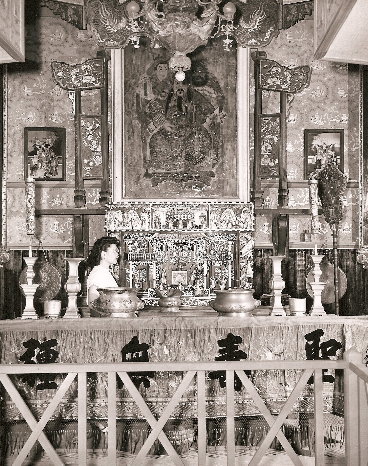 Elko's Chinese Joss House. When asked for a bill of sale, Doby said it was a verbal deal. Northeastern Nevada Museum Archives, Elko.
Joe Bell remembered, "Doc and his workers passed a truck loaded with pipe that had broken down on the highway.
Doby commented, 'I wonder what my pipe is doing here?'
He had his crew offload the pipe onto his truck. The filched pipe was used to construct pig pens for Doby."
Joe Mendive said Doby exercised an ingenious method of doing business with the air base at Wendover, Utah during World War II. He picked up the garbage from the base, fed it to his pigs, then sold the hogs to the airfield.
During World War II, Doby had a warehouse of rationed tires. Tire by tire, not allotted legally, the inventory dwindled away until only a few remained. That's when the warehouse caught fire and Doc was right there helping the firefighters. Every time there was a fire, Doc put a keg of whiskey in his car and headed for the blaze. He gave all the firemen a free drink.
Doby submitted a claim to his insurance company saying hundreds of tires stored there were lost in the fire.
A local insurance agent once tried to sell Doc a cyclone policy. Doby told him, "I'd rather have fire insurance, I can't start a cyclone."
Doby had a "night crew" for his forages in the dark. A rancher ordered a load of lodge poles to build a fence. Perhaps it was a convenient event but a truck loaded with lodge poles broke down on Emigrant Pass and the driver walked to a nearby ranch for help. While he was away from the truck, the night crew drove their truck alongside the disabled vehicle. They loaded up the poles and delivered them to the rancher the next day.
Sources:
"Doby Doc - Robin Hood of Elko County," by Jerry Hendershot, Northeastern Nevada Historical Society Quarterly, 88-4.
"Doby Doc - The Continuing Saga," by Donald E. Getz, Northeastern Nevada Historical Society Quarterly, 89-3.
"Black Wrangler - Reminiscences of Lawrence Jackson," edited by Howard Hickson, Northeastern Nevada Historical Society Quarterly, Fall, 1977.
"More about Doby Doc," edited by Howard Hickson, Northeastern Nevada Historical Society Quarterly, 89-1.
"The El Rancho Vegas and Hotel Last Frontier: Strip Pioneers," by David G. Schwartz, Ph.D., University of Nevada at Las Vegas, July 8, 2000, Gambling Research - The Electronic Journal of Gambling Issues.
"A Retrospective - Benny Binion Speaks," Internet site, World Series of Poker, University of Nevada at Las Vegas.
Joe Bell, Elko, Nevada resident.
Joe Mendive, Elko, Nevada resident.
"The Last American - A Personal Odyssey" by Daniel Markoff, Sagebrush Headlight, Vol. 26, No. 1, 91st Edition, Spring 2005, Nevada State Railroad Museum, Carson City.
"Doby Doc at 82 - A Western Original," October 1, 1972, and "Famed Doby Doc Tells All As Diamonds Mirror Past," October 8, 1972, both by Judy Carlos, Las Vegas Sun Scenic Magazine.
Social Security Death Index, Ancestry.com.
World War I Draft Registration Cards, 1917-1918, Ancestry.com.
©Copyright 2007 by Howard Hickson