A Message from President Dr. Mark Curtis
Welcome to Great Basin College (GBC) where I too have been recently welcomed as the incoming President by the wonderful, warm, and caring student centered faculty and staff. I have been struck by how much pride the college community takes in our mission, which is devoted to enriching people's lives through providing student-centered, po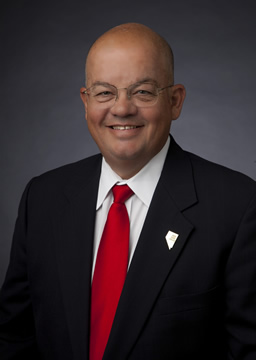 st-secondary education to rural Nevada.
Educational, cultural, and related economic needs of our multicounty service area are met through programs in applied sciences and technology, university transfer, business and industry partnerships, developmental education, community service, and student support services in conjunction with numerous certificates and associate and baccalaureate degrees. The following paragraphs are offered to help acquaint you with a variety of important facts that define the college.
Great Basin College covers 86,500 square miles, two time zones, and six of Nevada's largest counties. We border Oregon, Idaho, Utah, and California. The main campus in Elko is a comprehensive residential college. Centers are located in Battle Mountain, Ely, Pahrump, and Winnemucca. There are satellite facilities in over a dozen communities across northern Nevada and our Internet campus continues to grow rapidly. We are very committed to working with the communities in all of our locations to meet their educational needs.
The Northwest Commission on Colleges and Universities has reaffirmed the accreditation of Great Basin College based on Year One of the newly revised accreditation schedule; the College is currently working on the Year Three Self-Evaluation Report. Recently, we have received reaffirmation of program accreditations for the Associate and Bachelor's degree in Nursing and the Associate degree in Radiology.
Great Basin College has built strong relationships with employers in the service area. GBC has worked collaboratively with the regional mining industry over many years. With industry support, GBC has developed 48 week accelerated Associate degree programs in five technical areas. Over 90% of graduates from these programs are employed within a year of completion. Bachelor and associate degrees in health sciences and education provide graduates to supply the needs of local health care providers and school districts. "Growing our own" has become a strategy to provide a trained workforce for rural Nevada in jobs for which it is otherwise difficult to recruit and retain quality professionals. These are just a few examples of partnerships GBC has developed over the years.
Great Basin College has a very dedicated and talented faculty. Courses are taught in traditional classrooms as well as through distance delivery using high-tech interactive video technology and web-based learning platforms.
There are over 3800 students attending GBC, the vast majority of which students would recommend GBC to a friend or relative. Since its founding in 1967 the college has awarded more than 5500 degrees and certificates. This past year, 432 certificates and degrees were awarded as well as scores of Recognitions of Achievement.
The Great Basin College Foundation Trustees continues to move forward with VISION 2020, a plan for funding for more Scholarships, the Health Sciences, New and Emerging Technologies, and Institutional Sustainability.
As you prepare for your future, I welcome you to meet with our faculty and staff to discuss your own educational goals and how GBC can assist you in reaching your goals. I am honored to serve as your President and hope to meet you somewhere along your education journey at Great Basin College.

Sincerely,
Mark A. Curtis, President