Elko Campus
The main campus of Great Basin College campus has been transformed into a high desert oasis during the last decade, well depicted in the GBC Campus Map. The 44 acre site borders Interstate 80 less than a mile from downtown Elko, about half way between Reno and Salt Lake City. From the site, collegians may look south and see the snow-mantled Ruby Mountains.
A 4.5 million grant project from the Donald W. Reynolds Foundation, completed in June of 2001, has graced the campus with a landmark bell tower, pristine waterway, outdoor amphitheather, glass soliarium, and lovely landscaping.
The Elko campus provides:
With a regional population of about 40,000, Elko offers many urban amenities while remaining small enough to foster a sense of community. With the Ruby Mountain and Jarbidge wildnerness areas nearby, the region affords abundant outdoor recreational opportunities.
Home of the Western Folklife Center, Elko hosts the world-famous annual Cowboy Poetry Gathering in mid-winter. And, home to a large Basque commuity, it also hosts a Basque Festival in mid-summer.
Though the community originated as only a stop on the Central Pacific Railroad, Elko is now the prosperous hub of the continent's richest gold mining region. Its colorful history is richly, and often humorously, documented in Howard Hickson's Histories by the director emeritus of the Norheastern Nevada Museum.
The links below provide additional information about the area:
Elko Chamber of Commerce
Northeast Rural Development Authority (NNRDA)

GBC's Main Campus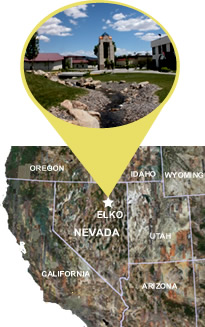 1500 College Parkway

[map]

Elko, Nevada 89801

Phone:

775.738.8493
Fax:
775.738.8771

Hours:

8 am to 5 pm