GBC Clubs and Organizations
Welcome!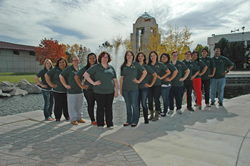 Want to have a great time? Meet new people or perhaps learn a new skill? Do you want to hang out with fellow students with like interests as you? Then a Great Basin College club or organization is for you!
GBC has a long history of offering exciting clubs and organizations just for you- the student! Look and you will find clubs about nursing, agriculture, and tabletop. Want to know more about radiology? There's a club for that. Want to celebrate the Latino culture? There's a club for that. Want to be a student leader? There's an organization for that! Don't see a club or an organization that meets your needs? Don't worry...start your own campus club! Maximize your student experience and join (or start) a club or organization NOW!
If you are interested in started a new club or wanting to maintain an already existing club, please fill out the Organization Recognition Packet. As stated in the Student Government Association (SGA) Constitution, Article IX, Section A: The term "student organization" shall apply to all organized groups, which conform to the qualifications of the SGA and meets with its approval and thereby qualifies as an "on campus organization." Members in these organizations shall be open to all eligible registered GBC students. For more student information, review the GBC Student Handbook.
2015-16 SGA Clubs & Organizations
For More Information Contact
Adriana Mendez
Student Advocate
Great Basin College
1500 College Parkway
Elko, NV 89801
Phone: 775-753-2201
E-mail: adriana.mendez@gbcnv.edu
Why Great Basin College
Great Basin College wants to be your choice for higher education. GBC offers associate and baccalaureate level instruction in career and technical education and academic areas. About 3,800 students are enrolled online from across the country and on campuses and centers across 86,500 square miles, two time zones, and ten of Nevada's largest counties. We border Arizona, Oregon, Idaho, Utah, and California. We are GBC!