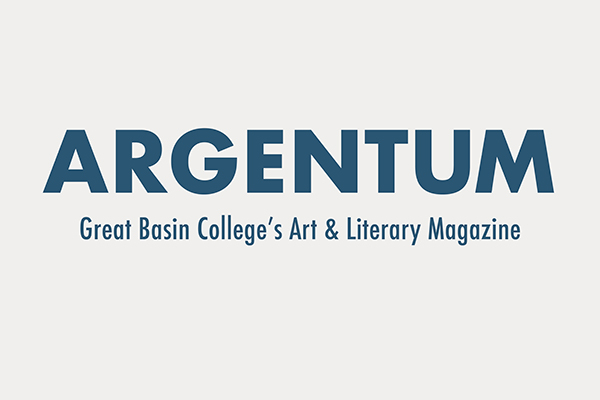 GBC's Argentum
Argentum is Great Basin College's art and literary magazine devoted to highlighting the excellent artistic expression of its students, faculty and staff. Community members are also encouraged to submit work. Contributors 18 and under need a parent or guardian signature.
Argentum 2021
For Writers:
Nonfiction up to 1,500 words
Fiction (poems, short stories) up to 5,000 words in most genres including:

Crime / Detective / Mystery
Drama
Fable / Fairy Tales / Fantasy

Legend / Mythology / Tall Tale
Science Fiction

File name: LastNameTitle.rtf
See the Submission Guidelines PDF for complete details.
For Artists:
Art inspired by this year's theme in any medium that can be photographed in color
Files: JPEG or TIF (PDFs are not accepted)
Provide the specific medium (e.g. acrylic on canvas)
Size no smaller than 1.5MB (4 to 5MB is preferred)
File name: LastNameTitle.jpg
See the Submission Guidelines PDF for complete details. If you need assistance photographing your work for submission, please contact the GBC Continuing Education office at 753-2202.
Prizes and Awards*
$250 for 1st place
$100 for 2nd place
$50 for 3rd place
*While everyone in the GBC community is encouraged to submit work to Argentum, only GBC students enrolled in Summer 2020, Fall 2020 and/or Spring 2021 classes are eligible for prizes.
Three (3) total submissions per person will be considered.
Submissions are due on or before Tuesday, February 16, 2021.
Use our new Submission Form to enter!
View the Submission Guidelines, Judging Criteria, and Photography Tips PDFs for complete details. Please contact the editors via email at argentum@gbcnv.edu if you need assistance.
Past issues of Argentum are available for download using the links on the left-hand side of our page!
For More Information Contact
Dori Andrepont
Jennifer Stieger
Argentum Editors
E-mail: argentum@gbcnv.edu
Why Great Basin College
Great Basin College wants to be your choice for higher education. GBC offers associate and baccalaureate level instruction in career and technical education and academic areas. About 4,000 students are enrolled annually online from across the country and on campuses and centers across 86,500 square miles, two time zones, and ten of Nevada's largest counties. We border Arizona, Oregon, Idaho, Utah, and California. We are GBC!