GBC and Diversity
Great Basin College Diversity Statement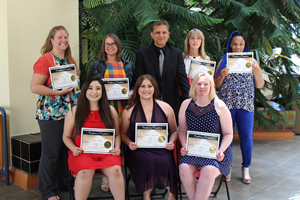 Great Basin College values you!
This means that we at GBC value inclusion, which is the intentional practice of understanding differences, identifying processes that lead to inequities, developing strategies that lead to equity and inclusion and fostering a culture that promotes mutual respect for all members of the GBC learning community.
We at Great Basin College recognize that diversity embodies differences such as those we are born with, those we acquire, and those that are assigned to us. We also recognize and value what we have in common that brings us together as human beings worthy of respect and encouraged to speak our truths freely through civil discourse.
Valuing what we have in common and our differences means we will foster a college climate of mutual trust, tolerance, informed discourse and always seek to promote GBC as a safe space to explore new ideas and perspectives with opportunities for you to grow, learn and be successful.
Welcome to GBC!
GBC Statement on Recent DACA and LGBTQ Court Decisions
Dear Students, Faculty & Staff,
I am writing to you today to share important news about two long awaited Supreme Court decisions that came out recently. On Thursday, June 18, the court ruled against efforts to end the Deferred Action for Childhood Arrivals (DACA) program. Their decision keeps the DACA program alive and protects our DACA students.
The other important Supreme Court decision came out earlier in the week ensures our LGBTQ community has protection from workplace discrimination across the nation. GBC stands proudly with our LGBTQ students and employees and supports the court's decision.
GBC is a supporter of equity and inclusion for everyone. We also welcome a learning environment that allows our DACA students and our LGBTQ community to succeed without insecurity and concern weighing over them.
Even with these Supreme Court victories, there is still much work ahead. Thank you to all those who are making a commitment to equity and inclusive excellence, through access to high quality learning opportunities, and ensuring our students of diverse backgrounds are empowered to achieve their goals.
Sincerely,
Jake Rivera
Vice President for Student and Academic Affairs
Concerned About DACA?
For students having concerns about DACA, please contact Jake Rivera.
Jake Rivera
Vice President for Student and Academic Affairs
E-mail: jake.hinton-rivera@gbcnv.edu
Phone: (775) 753-2282
Great Basin College DACA and undocumented students are encouraged to visit the Student Financial Services office in Berg Hall on the Elko campus to determine eligibility for student aid. Immigration status is not collected as part of this process. The Student Financial Services office phone number is 775-753-2289.
Sources of information regarding the rescission of DACA:
Diversity Events
Check our page frequently for upcoming diversity events!
GBC Cares - A Guide to Engaged Learning
C

ivility - have respect for others: students, faculty, staff, and the campus community. Be respectful, polite, and considerate in any classroom, live or digital.

A

ctive - embrace the active process of learning. To maintain a class environment that is conducive to learning: Be diligent, engaged, and committed.

R

esponsibilities - you are accountable for your actions, work, words, and behavior. Courteous behavior and responses are expected: Be honorable, conscientious, truthful, and dependable.

E

xcellence - in the classroom, optimizes an atmosphere of teaching and learning. Classroom discussion is meant for everyone's viewpoint to be expressed on the topic at hand. All students should be afforded the courtesy and opportunity to be heard: Be exceptional.

S

uccess - successful college students embrace all of the educational experience and welcome diversity and different ideas. Embrace challenges.

Diversity Resources and Data
Please view our diversity resources: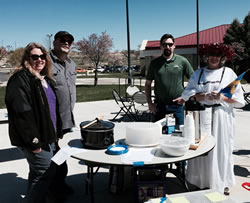 For More Information Contact
Jake Rivera
Vice President for Student Affairs
Great Basin College
jake.hinton-rivera@gbcnv.edu
Why Great Basin College
Great Basin College wants to be your choice for higher education. GBC offers associate and baccalaureate level instruction in career and technical education and academic areas. About 4,000 students are enrolled annually online from across the country and on campuses and centers across 86,500 square miles, two time zones, and ten of Nevada's largest counties. We border Arizona, Oregon, Idaho, Utah, and California. We are GBC!