Faculty Advisement at GBC
As a GBC applicant, you are assigned a faculty advisor according to your major (and even if you've not yet selected a major). To learn who your advisor is, log into the MyGBC Self-Service Center. Then click the Student Center button. You'll see your advisor listed on the left of your Student Center page. See the screenshot below for the location of your advisor's name.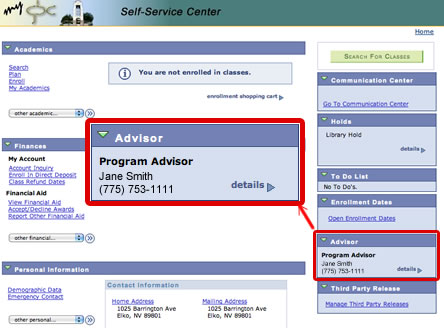 You can see your advisor's name and phone number. You can obtain obtain your advisor's email address:
Left-click on your advisor's details
On the next screen, right-click on your advisor's name
Left-click on "copy email address"
Right-click to paste the email address into your email
It is up to you to initiate contact with your advisor. If you want to change your advisor, contact Admissions and Records or your local campus.
It is important that you meet with your advisor on a regular basis. Your advisor will assist you with class selection to streamline your academic process. It's a good idea to contact your advisor before the enrollment period begins. Faculty return to campus before the beginning of fall instruction to be available to you.
You also have the resources of the Academic Advising and Career Center at your disposal. If you are uncertain about what academic objective truly suits you, the center has assessment services to align your academic objectives with your aptitudes and preferences. Advisors at the center are available to assist you with any matters affecting your success at GBC.
More Academic Help
The Student Retention Peer Mentor understands issues facing students and can assist you in finding the support and resources you need.
Why Great Basin College
Great Basin College wants to be your choice for higher education. GBC offers associate and baccalaureate level instruction in career and technical education and academic areas. About 4,000 students are enrolled annually online from across the country and on campuses and centers across 86,500 square miles, two time zones, and ten of Nevada's largest counties. We border Arizona, Oregon, Idaho, Utah, and California. We are GBC!