GBC Theatre Program
GBC Theater Department Stages Incredible Stories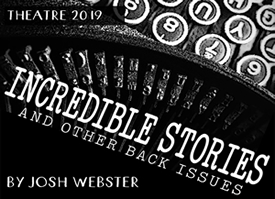 The Great Basin College Theatre Program presents Incredible Stories and Other Back Issues June 13th through the 15th and June 20th through the 22nd. Performances will take place on stage at the Great Basin College Theatre beginning at 7 PM. Tickets are now on sale at the Controller's Office in Berg Hall on GBC's Elko campus. General Admission tickets are just $10, $5 for students and seniors. Tickets will also be available at the door!
Incredible Stories and Other Back Issues is the full-length play world debut of local playwright, author, and GBC English Professor Josh Webster. The story centers on the life of nebbish comic book/sci-fi writer Bill Hauser over the course of four decades. From childhood to first writing job, from successful author to middle-age, the lonely and self-tortured writer's life takes an incredible turn when his long since spurned comic book characters try to convince him to either take pen in hand and breathe life into them once more or destroy them forever!
Frank L. Sawyer and Josh Webster take on directing duties while GBC Theater Department Professor John Patrick Rice serves as Producing Artistic Director. Local artists participating in the production include Dawn Bartlett, Don Jones, Derek Burwell, Erika Patrick, Nick Cdebaca, Ian Montgomery, Paul Gregory, David Patrick, Zachary Montgomery, Kinyon Moore, Tanya Leader, Rebecca Stanton, Kelsey Rogers, Meghan Jonas, Kate Garrison, Kate Rhoswen, Sandy Beeler, Caleb Tapia, Caleb Micheli, Wendy Lloyd, Laura Cdebaca, among others.
This play contains strong language and adult situations.
For more information please contact Frank L. Sawyer at 775-934-3721, frank.sawyer@gbcnv.edu or Josh Webster at joshua.webster@gbcnv.edu.
Mamma Mia! on Stage at Great Basin College
The Great Basin College Theatre Program presents Mamma Mia! March 19 through 23 on stage at the Great Basin College Theatre. Tickets are now on sale at the Controller's Office in Berg Hall on the GBC Elko campus. Tickets are just $20, $15 for students and seniors. Get them EARLY!
John Patrick Rice directs the production, with music direction by Walt Lovell and vocal direction by Gail Mierins.
For more information call 775-753-2240 or e-mail john.rice@gbcnv.edu.
Who We Are and What We Do!
The Great Basin College Theater Program has been transforming the American Theatre Experience since 1996. As part of the Great Basin College Arts and Letters Department, students and faculty join together for enlightened experiences of fine arts, humanities, English, foreign language and communication. The programs are critical components of every academic and training degree program offered by the college.
GBC Theatre offers courses in acting, oral interpretation, stage voice, movement for the stage, theatre technology, dramatic analysis and more. Special Topic courses are added to the schedule regularly, generally taking advantage of the specific skills GBC Theatre's many guest artists and instructors can provide. In the past, courses in playwrighting, armature, effects makeup, Suzuki Movement Training, stage combat and comedy improv have been offered.
As the mission of Great Basin College has expanded, so has its reach. The college service area now includes more than half of Nevada's seventeen counties, covers 80% of Nevada's geographical area, and serves five percent of the state's total population. It's a big state, and Great Basin College intends to educate it. Using state of the art distance learning technologies, students in even the furthest reaches of Nevada will have equitable access to the opportunities higher education has been providing to their urban counterparts for decades. It requires fierce commitment from the college and creates a tremendous opportunity for the entire state of Nevada.
GBC theatre now offers almost all of its courses using distance-learning technologies. By combining traditional theatre teaching techniques with advanced technologies, students are accessing a learning experience with seasoned theatre professionals that heretofore had not even been conceived. And, what's more, they are being prepared for the theatre of today. Added to other fine arts and humanities courses already offered with distance technologies, and it is easy understand why Great Basin College is recognized as one of the most efficient and innovative colleges in the state.
---
For More Information Contact
John Patrick Rice Ph.D.
Director of Theatre
Great Basin College
Phone: 775-753-2240
john.rice@gbcnv.edu
Why Great Basin College
Great Basin College wants to be your choice for higher education. GBC offers associate and baccalaureate level instruction in career and technical education and academic areas. About 3,800 students are enrolled online from across the country and on campuses and centers across 86,500 square miles, two time zones, and ten of Nevada's largest counties. We border Arizona, Oregon, Idaho, Utah, and California. We are GBC!