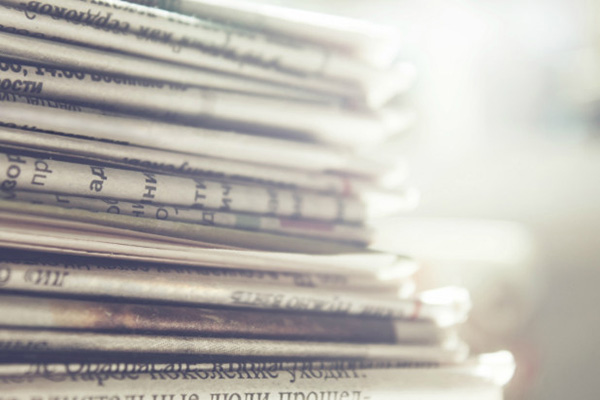 Angela Hagfeldt, this Year's Winner of the President's Award!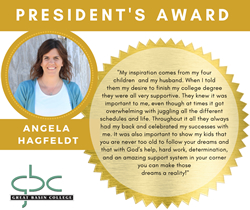 We would like to congratulate the winner of this year's President's Award, Angela Hagfeldt. Nominated by GBC faculty members, Angela recently graduated with honors from the Bachelor of Arts in Social Science program and did it all online!
For Angela, attaining a college education was a long-standing personal goal and hopes to eventually obtain a master's degree. We would like to wish her luck in her future educational plans.   
What GBC program are you attending/recently attended?
I recently graduated with honors from the BASS program.
What are your career and/or education goals?

I already have the best, most rewarding career in the world - I am a stay at home mom to 4 amazing kids - ages 14, 13, 11, & 8. Getting a college degree was never about career goals - it was a long standing personal goal to achieve a college education. Now that I have a Bachelor's degree, I hope to go on to graduate school (at some point) and obtain a Master's degree.
Short, personal story of how you came to be at GBC or what lead you to your education plans.
I was struggling with self confidence and anxiety issues and my amazing mental health counselor challenged me to do something that was just for myself. It took me all of 1 day to decide I wanted to go back to college and obtain a Bachelor's degree. I started looking for a fully online Bachelor's degree program that I could do from a very rural area. I have friends and family that have taken classes from GBC so I looked it up. The BASS program immediately caught my attention and so I applied. It was evident from my first semester (Fall 2018) that the instructors and advisors in the BASS program at GBC were very student friendly and were there to help me achieve my goal and wanted to see me (as well as all other students) succeed. That fact made all the difference in my second go at college.
Where do you draw your inspiration from?
My inspiration comes from my 4 kids and my husband. When I told them my desire of wanting to finish my college degree they were all very supportive. They knew it was important to me and at times it got overwhelming with juggling all the different schedules and life, but they always had my back and celebrated my successes with me. (I'm sure there were times that they got tired of me talking about classes or projects). It was also important to me to show my kids that you are never too old to follow your dreams and that with God's help, hard work, determination, and an amazing support system in your corner you can make those dreams a reality.
Do you have any advice to give to those who are about to begin college at GBC?
It will all work out. Take the first step and keep on keeping on. When you are overwhelmed and struggling to keep up - just focus on the goal and remember it will all be worth it in the end. Also, do not be afraid to ask your instructors or advisors for help - they are there to help you and they want to see you succeed.
For More Information Contact
Great Basin College
1500 College Parkway
Elko, Nevada 89801
Phone: 775-753-2180
Why Great Basin College
Great Basin College wants to be your choice for higher education. GBC offers associate and baccalaureate level instruction in career and technical education and academic areas. About 4,000 students are enrolled annually online from across the country and on campuses and centers across 86,500 square miles, two time zones, and ten of Nevada's largest counties. We border Arizona, Oregon, Idaho, Utah, and California. We are GBC!