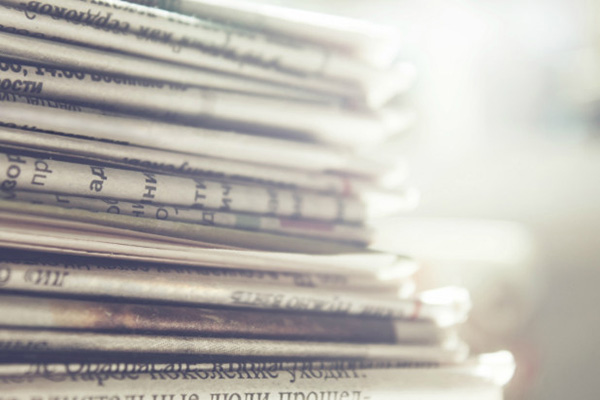 Jessica Larsen Wins Arts and Letters Department Award!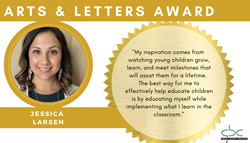 Jessica Larsen will graduate this spring with a 3.9 GPA, Summa Cum Laude. Jessica has been on the Dean's List every semester since she began her educational journey at Great Basin College. Jessica's greatest hope is that her own children will see her as a role model who has worked endlessly to pursue a higher education. She wants them to know that dedication and hard work will make anything possible.
Jessica's volunteer activities include Carlin Little League T-Ball and Coach Pitch Teams, Carlin Little League Board of Directors, and the Carlin PTA.
Jessica works at the GBC Child & Family Center as a Lead Teacher. Her passion is to educate all children in creative and engaging ways while providing technical as well as emotional support to children with special needs and/or challenging behaviors. Jessica stated, "My AA in ECE will serve as my springboard as I dive into the Elementary Education Program with great passion and purpose. My goal is to receive a BA in Elementary Education with an Endorsement in ECE and Special Education. I am grateful for all that I have learned from my GBC Professors, and I promise to pay it forward."
Lynette Macfarlan, Early Childhood Professor & Program Supervisor stated, "Jessica's captivating spirit and attention to detail set her apart as the most phenomenal student that I have ever had the opportunity to work with during my twenty-one years at GBC. She exudes innate kindness, determination, and an intellectual aptitude that qualifies her to be considered as one of GBC's outstanding students."
What GBC program are you attending/recently attended?
I just finished in the Early Childhood Education program and I am now going to be entering the Elementary Education program.
What are your career and/or education goals?
My career and education goals are to obtain a BA in Elementary Education and to be a successful lead teacher at the Great Basin Child and Family Center as I just accepted a Lead Teacher position for the full day classroom.
Short, personal story of how you came to be at GBC or what lead you to your education plans.
I previously worked at a preschool in Winnemucca, NV and my previous director had messaged me informing me that they were looking for aids at the GBC Child and Family Center. Since my biggest passion is working with children, I instantly got online and applied. Before I knew it, I had an interview and was soon offered a job. I decided this would be a great opportunity to go to school and pursue my passion even more by obtaining my degree in Early Childhood Education. After my first semester I quickly realized how great my love of learning was for Early Childhood Education and knew this was the path for me. Before I knew it, time had flown by and I had achieved my first big educational goal.
Where do you draw your inspiration from?
Watching young children grow, learn, and meet milestones that will assist them for a lifetime. The best way for me to effectively help educate children is by educating myself while implementing what I learn in the classroom.
Do you have any advice to give to those who are about to begin college at GBC?
Although, some days it may feel like they are impossible, keep pushing through because one day you will look back and realize that you made the impossible possible. If you have determination, dedication, and hard work anything is possible.
For More Information Contact
Great Basin College
1500 College Parkway
Elko, Nevada 89801
Phone: 775-753-2180
Why Great Basin College
Great Basin College wants to be your choice for higher education. GBC offers associate and baccalaureate level instruction in career and technical education and academic areas. About 4,000 students are enrolled annually online from across the country and on campuses and centers across 86,500 square miles, two time zones, and ten of Nevada's largest counties. We border Arizona, Oregon, Idaho, Utah, and California. We are GBC!