Science Research Projects
Individual Faculty Projects and Research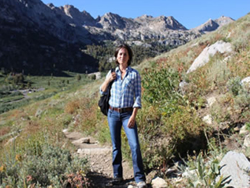 Carrie Meisner
Earth/Physical Sciences Professor
Project:
"National Science Foundation Grant to Reveal Uplift and Exhumation Rates of the Ruby Mountain Metamorphic Core Complex"
In summer, 2017, Great Basin College was awarded a $70,000 grant from the National Science Foundation to uncover the timing of important geological processes in the Ruby Mountains. In September, GBC Geology Professor Carrie Bruno Meisner, along with geology professors James Metcalf of University of Colorado and Allen McGrew of University of Dayton, began their fieldwork and data collection in the Ruby-East Humboldt-Wood Hills metamorphic core complex.
Natural resources student, Danielle Beazer will be creating interactive geology field guides. Graphic communications student, Melanie Garcia will work on a capstone project to produce graphics that convey concepts about regional geology, analytical methods used to determine dates on minerals, and results of summer 2017 field work. English student, Dori Andrepont will work on a research project regarding past science outreach practices and will discuss new strategies that will help improve scientific literacy, and bridge the gap between scientific researchers and the public.
Read more about the Ruby Mountain Research project.
For More Information Contact
Institutional Research and Effectiveness
Berg Hall Room 107
Great Basin College
1500 College Parkway
Elko, NV 89801
Why Great Basin College
Great Basin College wants to be your choice for higher education. GBC offers associate and baccalaureate level instruction in career and technical education and academic areas. About 3,800 students are enrolled online from across the country and on campuses and centers across 86,500 square miles, two time zones, and ten of Nevada's largest counties. We border Arizona, Oregon, Idaho, Utah, and California. We are GBC!