Program News
Spring 2021!
The Online Land Surveying/Geomatics degree program is currently accepting new applications for Spring 2021. All transcripts and applications must be submitted by January 15, 2021, to enroll in the Spring 2021 semester!
Solo Notes: Soon-to-be-Surveyor and GBC Graduate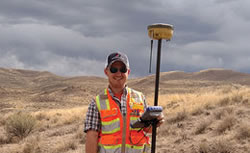 POB (Point of Beginning): What are you most looking forward to?
PORTER: College has been a part of my night and weekend life for many years now. I'm really looking forward to receiving my bachelor's degree, getting my license and being able to stamp that first survey. I can't say for certain, but I'm pretty sure that's going to be a glorious day.
POB: What areas of the profession are you least enthusiastic about?
PORTER: I've been pondering this question for days and haven't come up with anything.
POB: If you could go back in time, what would you do differently to prepare for a career in surveying?
PORTER: I would have tried to take some college courses in high school to expedite my degree process.
POB: What advice do you have for others considering this as a career path?
PORTER: I would advise people to seriously consider this profession for themselves. Sure, sometimes the fan mail is hard to keep up on, but it's so worth it. This career is so multi-faceted that you can find opportunities to fit almost anyone. There are large firms, small firms, you can work outside, inside, or both. It seems to be a rare occupation that can offer so many different ways to challenge a person each day.
http://www.pobonline.com/articles/100599-solo-notes-soon-to-be-surveyor
2nd Place Honors
GBC Land Surveying Students Bring Home Top Award at National Competition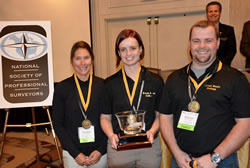 The Great Basin College Student Chapter of Land Surveying/Geomatics traveled to Arlington, VA, to participate in the 2016 National Society of Professional Surveyors (NSPS) Annual Student Surveying competition on March 14 and 15, where the team placed 2nd in the baccalaureate division.
The task for this year's competition was to perform a large-scale boundary/topographic survey, produce a project binder, a map, and an oral presentation.
These four elements were judged based on a rubric measuring the cohesiveness of an applied, professional, practice based, scientific research project.
GBC Land Surveying/ Geomatics Instructor and chapter advisor, Byron Calkins said the ability to present, explain and, at times, defend the rationale behind the survey is a critical skill for professional surveyors.
"The oral presentation provided students the opportunity to develop and refine their communication skill sets, practice working in groups, and demonstrate sound reasoning and findings in a professional setting," said Calkins.

Coincidentally, one of the challenges the team faced while preparing for the national competition included the team's geography.
The team is made up of 6 students, who represent 4 different states.
"The team met live for the first time on Sunday - just 12 hours before the competition," said Calkins. Email, text, and other communication platforms allowed the geographically diverse team to meet one-on-one and discuss the project frequently.

Like many GBC students who are often place bound, students in the online land surveying degree program are able to complete program requirements using the college's learning management system.
The four-year bachelor's degree program in land surveying/geomatics has served Nevada students and distance learners from around the country effectively since its inception in 2005.
This year's team members include Jennifer Jones (NC), Alexandra Reid (NV), Gus Porter (ID), Sarah Walker (CA), Michael Andreozzi (NV), and Marcus Beagley (ID).
In the baccalaureate degree division, GBC competed alongside New Mexico State University, Fresno State University, Kennesaw State University, St. Cloud State University, University of Akron, and NJ Institute of Technology.
The 2016 NSPS baccalaureate division winners were:
University of Akron (First Place)
Great Basin College (Second Place)
Kennesaw State University (Third Place)
In addition to the national student competition and professional fellowship, the trip included an exhibit hall, a mock trial and educational sessions related to the new technical requirements for surveying under the American Land Title Association/National Society of Professional Surveyors that take effect in 2016.
Students also had the opportunity to engage with members of their state society in a visit to the U.S. Capitol for meetings with legislators and their staff members.
The team would like to thank the GBC Student Government, NV Association of Land Surveyors, NV Association of Land Surveyors Great Basin Chapter, NV Association of Land Surveyors Lahoton Chapter, Monsen Engineering, John and Gloria Parrish, Alidade Inc, Dioptra LLC, Aspen Engineers, Compass Land Surveying, Bonneville BluePrint, and Paradise Excavation for their generous donations.
The student professional organization known as NSPS NALS Great Basin College Silver State Student Surveyors Chapter, is a chartered organization of the National Society of Professional Surveyors, the Nevada Association of Land Surveyors, and Great Basin College.
Videos
Great Basin College Presentation 2016 NSPS Student Competition:
View Video
Great Basin College (NV) Interview - 2016 NSPS Student Competition:
View Video
2016 NSPS Student Competition Awards:
View Video
For More Information
Byron Calkins
Program Advisor
Land Surveying/Geomatics Program 
Great Basin College 
1500 College Parkway, HTC 130 
Elko, Nevada (USA) 89801
Phone: (775) 753-2344
E-mail: byron.calkins@gbcnv.edu
Why Great Basin College
Great Basin College wants to be your choice for higher education. GBC offers associate and baccalaureate level instruction in career and technical education and academic areas. About 4,000 students are enrolled annually online from across the country and on campuses and centers across 86,500 square miles, two time zones, and ten of Nevada's largest counties. We border Arizona, Oregon, Idaho, Utah, and California. We are GBC!