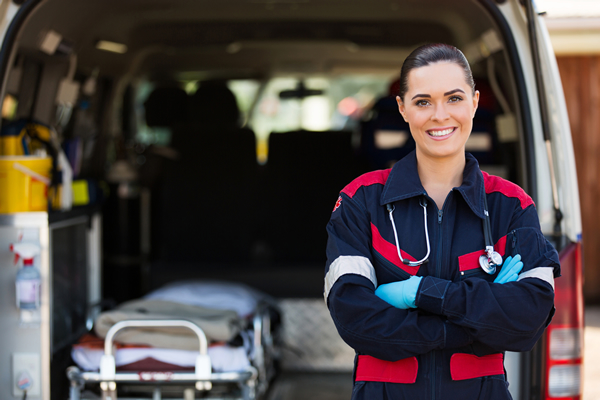 AAS in Emergency Medical Services - Paramedic Emphasis
Associate of Applied Science Degree in Emergency Medical Services - Paramedic Emphasis
Great Basin College offers an eighteen-month program leading to an Associate of Applied Science Degree in Emergency Medical Services - Paramedic. The GBC paramedic program allows for working professionals to continue their education utilizing distant learning. Skills are completed on a GBC campus with several clinical and practicum experiences options many within the students community. The paramedic program is fully accredited by the Committee on Accreditation of Education Programs for Emergency Medical Services Professions (CoAEMPS) and by the Northwest Commission on Colleges and Universities (NWCCU).
Mission of the Associate of Applied Science in Paramedic Program
To provide an accessible, student -centered, post -secondary paramedic education that prepares graduates for paramedic practice and ensures that patients within our communities receive a higher level of EMS care by paramedics trained with the highest standards.
Goal
Paramedic: "To prepare competent entry-level paramedics in the cognitive (knowledge), psychomotor (skills), and affective (behavior) learning domains with or without exit points at the advanced emergency medical technician and/or emergency medical technician, and/or emergency medical responder levels."
The paramedic student receives anatomy and physiology, pharmacology and medication administration instruction as well as training in advanced medical skills. Extensive related course work and clinical and field experience is required. Paramedic education prepares the graduate to take the National Registry of Emergency Medical Technician (NREMT) examination and become certified as a paramedic.
Enrollment in the program is limited and students are only admitted in the fall semester. Selection is made using a point system. Points are awarded for each general education course taken and passed. General education courses are not required for admittance into the program but students with completed courses will have a higher point range for admittance. Students must have a passing grade of C, in all courses, to receive additional points. Specific paramedic courses that are part of the program may not be taken prior to admission.
Students who do not have an ACT or SAT score and who have not started English and mathematics requirements, must complete the English/mathematics Accuplacer Placement Test. There is no charge for this test, and it must be taken prior to enrolling in prerequisite courses. The Accuplacer Placement Test is available at the Academic Success Center. For more information and testing times, call 775-327-2247.
Year of admission to the Associate of Applied Science in Emergency Medical Services - Paramedic program determines catalog year and course requirements.
Prerequisites to be completed prior to or during the semester in which application is made to the Associate of Applied Science Degree or Certificate in Emergency Medical Services - Paramedic program include:
Current EMT or AEMT certification with Nevada
Current American Heart Association Basic Life Support CPR Card
Proof of current Medical Insurance
Required Immunizations

MMR (2 doses)
Varicella (2 Doses)
2 Step TB within the last 12 months
Current Flu Vaccine (or exemption)
Hepatitis B Series (3 in series, at least 2 prior to the start of class)
Tetanus Immunization with last 10 years
Covid-19 Immunization(s) or approved exemption (subject to approval)
Admission Information
Questions about the AAS Degree in Emergency Medical Services - Paramedic program or the application process can be directed to the Department of Health Science and Human Services at 775-327-2317.
Admission to the Associate of Applied Science Degree in Emergency Medical Services - Paramedic Special application and admission requirements exist for EMS. Prospective students should:
Apply for admission by completing the Application for Admission packet available online. Applications are available in January and must be submitted by April 1 at 5 p.m. for the Fall semester.
Return completed forms to:

Health Science and Human Services Department
Great Basin College
1500 College Parkway
Elko, NV 89801 solutions.
Program Learning Outcomes
Upon completion of the program, students are expected to:
Demonstrate integration of cognitive knowledge and skills proficiency as an entry level Nationally Registered Paramedic.
Demonstrate entry-level Nationally Registered Paramedic educational preparation by applying problem-solving, clinical decision-making and critical thinking skills required for assessment based management in a variety of prehospital settings.
Apply therapeutic and professional communication skills when working with patients, patients' significant others, colleagues, and other health care providers and members of the community.
Apply broad intellectual aptitude and awareness with regard to pure science, management, psychology, sociology, human services, personal wellness and cultural diversity to support and enhance the role as a public safety and health care professional.
Recognize the importance of research and scientific inquiry to promote continuous, quality improvement in prehospital health care delivery.
Recognize and acknowledge that the emerging roles and responsibilities of the Paramedic include public education, health promotion, and participation in injury and illness prevention programs.
Recognize and demonstrate the importance of adapting pre-hospital care to a diverse patient population of age, gender, culture, religion, alternate life style, and background within a community.
Assume the role of leadership as an advanced life support provider and role model for other EMS providers.
AAS-Paramedic Degree for Previously Certified Nationally Registered Paramedics
Pathway from Certification to a Degree
Great Basin College is pleased to offer national registered paramedics (NRP) the opportunity to achieve an associate's degree with college credit for the hard work you have already done.
In order to be considered for admission to the AAS-Paramedic program, all students must meet the requirements for formal admission to Great Basin College. College level courses of equivalent semester hour credit and content may be transferred by direct credit from other regionally accredited institutions.
To be considered eligible for admission into Great Basin College's AAS-Paramedic Program, applicants must show evidence of current national registry status as a paramedic.
Students applying for the AAS-Paramedic Program must meet the following minimum criteria:
Nationally Registered Paramedic in good standing.
Current state licensure.
SAT/ACT scores. If SAT/ACT scores are not available, the student will be required to take Accuplacer tests to be placed into the appropriate general education courses.
For More Information Contact
Health Sciences
775-327-2317
Why Great Basin College
Great Basin College wants to be your choice for higher education. GBC offers associate and baccalaureate level instruction in career and technical education and academic areas. About 4,000 students are enrolled annually online from across the country and on campuses and centers across 86,500 square miles, two time zones, and ten of Nevada's largest counties. We border Arizona, Oregon, Idaho, Utah, and California. We are GBC!