Phi Theta Kappa at GBC
What is PTK?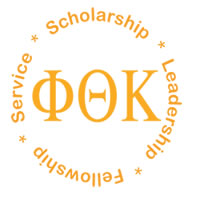 Phi Theta Kappa (PTK) is an international honor society of two-year colleges, and two-year academic programs. It's the largest honor society in American higher education with more than 1.5 million members and 1,200 chapters located in all 50 states and abroad. PTK is also one of the largest collegiate honors societies world-wide.
Phi Theta Kappa offers its members scholarship, leadership, fellowship and service opportunities. Members are acknowledged for their outstanding academic achievement at graduation as well as having their membership notated on their transcripts and diploma. For more information about membership benefits and to find out if Phi Theta Kappa is right for you, visit the Phi Theta Kappa International Web Site at www.ptk.org or contact Lynette Macfarlan at lynette.macfarlan@gbcnv.edu.
Phi Theta Kappa provides an intellectual climate for the exchange of ideas, ideals, opportunities for the development of leadership and service, lively fellowship of scholars, and stimulation of interest in continuing academic excellence.
Phi Theta Kappa is built on four pillars or hallmarks that each chapter strives to capture in each of its activities:
Scholarship: Academic study or achievement; learning of a high level.
Leadership: The state or position of being a leader.
Fellowship: Friendly association, especially with people who share one's interests.
Service: The action of helping or doing work for someone else.
PTK at GBC!
Phi Theta Kappa is represented at Great Basin College by the Beta Beta Epsilon Chapter. Our chapter's Faculty Advisor is Lynette Macfarlan. Lynette Macfarlan is a tenured Professor of Early Childhood Education at Great Basin College. She serves as the ECE Program Supervisor and Lead Professor overseeing three associate degree programs and two certificate programs. Lynette holds an AA in ECE from Great Basin College, a Bachelor of Arts degree in Humanities from Sierra Nevada College, and a Master's Degree in Reading and Literacy from Walden University.
Lynette's greatest passion is teaching students to become leaders. She believes that staying fresh and enthusiastic through authentic engagement allows her to continuously evolve with her students. This occurs by being fully present as an instructor, mentor, and advisor.
2020-2021 Officers
President: Amanda Halsey, Elko, Nevada. Declared Major: Associate of Arts in Early Childhood Education
Vice President: Franck Saint-Etienne, Amsterdam, Netherlands. Declared Major: Associate of Applied Science Business Administration
Secretary: Bridgette Boamah Marfo, Ghana, West Africa. Declared Major: Associate of Applied Science Human Services
Special Events Coordinator, Elko: Tracie Grant, Elko, Nevada. Declared Major: Associate of Applied Science in Early Childhood Education
Special Events Coordinator, Satellite Sites: Jessica Kinacid-Snyder, Winnemucca, Nevada. Declared Major: Associate of Arts Social Science
Are There Benefits to Joining Phi Theta Kappa?
YES! Benefits of membership include:
Honors Diploma and Transcripts: Phi Theta Kappa members may affix the Society's Gold Diploma Seal, denoting Society membership, to their two-year college diploma and have their honor society membership noted on their college transcripts.
Letter of Recommendation: All Phi Theta Kappa members may request a letter of recommendation from Phi Theta Kappa Headquarters to a potential employer or college admissions official to confirm membership and leadership roles in Phi Theta Kappa. Officers will receive an enhanced letter stating their dates of service and office(s) held.
Scholarships: PTK Members can apply for hundreds of scholarships (over $37 million worth) as well as apply for transfer scholarships to over 600 senior institutions.
Recognition: Members of Phi Theta Kappa may wear the society's golden monogrammed Honors Stole and Tassel at college commencement proceedings.
How Do I Become a Member?
Membership in Phi Theta Kappa is by invitation only. All eligible students receive an invitation to join in the spring. Invitations are sent out the semester following completion of criteria: 3.5 GPA and the competition of 12 college credits.
For More Information Contact
Lynette Macfarlan
Early Childhood Program Supervisor and Lead Professor
Faculty Advisor, Beta Beta Epsilon Chapter
Great Basin College
1500 College Parkway
Elko, NV 89801
Phone: 775.753.2239
E-mail: lynette.macfarlan@gbcnv.edu
Why Great Basin College
Great Basin College wants to be your choice for higher education. GBC offers associate and baccalaureate level instruction in career and technical education and academic areas. About 4,000 students are enrolled annually online from across the country and on campuses and centers across 86,500 square miles, two time zones, and ten of Nevada's largest counties. We border Arizona, Oregon, Idaho, Utah, and California. We are GBC!