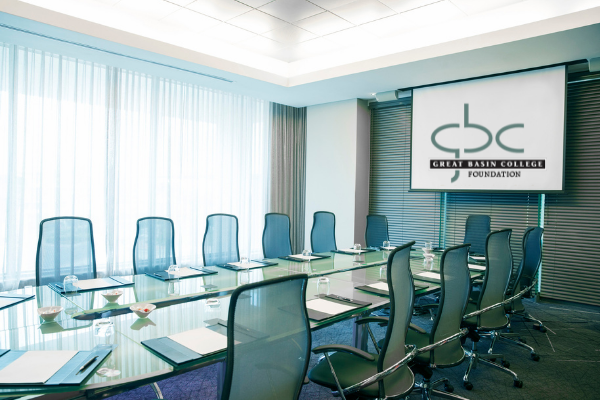 Foundation Board of Trustees
The Great Basin College Foundation has a Governing Board of Trustees consisting of a maximum of 35 trustees who provide oversight for its activities.
Board of Trustees Members
Chair: Dr. Robert Colon
Vice-Chair: Holly Wilson
Secretary (ex-officio): GBC President Joyce Helens
Treasurer: James Glennon
Members:
Kaley Sproul Chapin
Dr. Robert Colon, Optometrist, Total Eyecare
Zach Gerber, Attorney and Partner, Gerber Law Offices LLP
James Glennon, CPA, Glennon & Sandoval Company
Danny Gillins, Financial Advisor and Branch Manager, Raymond James Financial Services
President Joyce Helens, (Ex-Officio Secretary), President, Great Basin College
Chris Johnson, President, Charles Chester Plumbing and Heating
Caroline McIntosh, Retired Educator
Molly Popp, Office Manager, AnyDay Dental
John Pryor, Emeritus Faculty, Great Basin College
Dave Roden, Retired, US Bank
Holly Wilson, Retired Educator
Alan Morris, Owner, Ruby Mountain GIS
Shirley Alen-Kellerman, Business Lending Representative, Rural Nevada Development Corp
Melanie Newton, (Community Member) Resource Modeling Geologist, Nevada Gold Mines
Kevin Seipp, (Ex-Officio Member), Faculty Senate Chair, Great Basin College
For More Information Contact
Great Basin College Foundation Office
Phone: 775.327.2382
Email: gbcf@gbcnv.edu
Why Great Basin College
Great Basin College wants to be your choice for higher education. GBC offers associate and baccalaureate level instruction in career and technical education and academic areas. About 4,000 students are enrolled annually online from across the country and on campuses and centers across 86,500 square miles, two time zones, and ten of Nevada's largest counties. We border Arizona, Oregon, Idaho, Utah, and California. We are GBC!