About the Great Basin College Foundation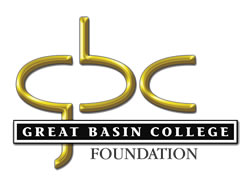 Great Basin College Foundation has been duly established as a non-profit corporation within all of the provisions of the United States Internal Revenue Code Section 501(c)(3).
Members of the NSHE Board of Regents are corporate members of the Foundation and have the responsibility of assuring the people of the State of Nevada that GBC Foundation acts within the authority of its Articles of Incorporation and Bylaws and in accordance with the policies of the NSHE Board of Regents, the laws of the State of Nevada, and the Internal Revenue Code.
GBC Foundation Mission
Great Basin College Foundation cultivates, stewards and manages resources from our communities for the benefit of the students and programs of Great Basin College.
This is achieved primarily through cultivation and management of fiscal resources and promotion of the College's image throughout the region. The Foundation has a Governing Board of Trustees consisting of a maximum of 35 trustees who provide oversight for its activities.
All contributions made for the benefit of Great Basin College, both cash and in-kind, must be coordinated in advance of the contribution. Any contributions received without advance coordination with the Foundation are subject to being returned to the donor if the Foundation determines that such gifts are not in keeping with the goals, objectives, policies, laws and priorities of the Great Basin College, Nevada System of Higher Education, and applicable entities, including the Interanal Revenue Code and Nevada Revised Statutes.
Documents and Procedures
For More Information Contact
GBC Foundation
Great Basin College
Phone: 775-753-2260
Why Great Basin College
Great Basin College wants to be your choice for higher education. GBC offers associate and baccalaureate level instruction in career and technical education and academic areas. About 4,000 students are enrolled annually online from across the country and on campuses and centers across 86,500 square miles, two time zones, and ten of Nevada's largest counties. We border Arizona, Oregon, Idaho, Utah, and California. We are GBC!